Trump to meet with striking UAW autoworkers in Detroit, skip second GOP debate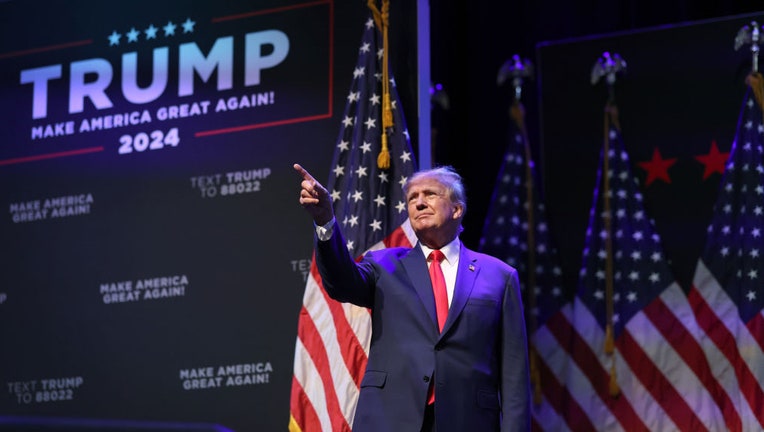 article
FOX 2 (WJBK) - Former President Donald Trump will be coming to Detroit to speak to striking United Auto Workers on Sept. 27 according to a person familiar with his plans said Monday to the Associated Press.
The visit to Detroit - which has not been officially confirmed by Trump or the UAW -  means he will skip the upcoming second Republican Primary Debate to be held that same night at the Ronald Reagan Presidential Library in Simi Valley, California.
The Sept. 27 trip, first reported by The New York Times, will also include a primetime speech, according to the person familiar with the plans who spoke to The Associated Press on condition of anonymity before they were made public.
The front-running candidate for the Republican nomination skipped the first GOP primary debate as well. 
About 13,000 UAW workers are currently on-strike with all of the Big 3. President Shawn Fain has targeted specific plants for current walkouts including the Michigan Assembly in Wayne, owned by Ford Motor Company.
In recent days, he has been leaning hard into the strike, painting himself as sympathetic to the workers and accusing Biden of trying to destroy the car industry by expanding electric cars and other green energy policies. 
Trump, on his social media app Truth, has expressed support for the striking workers.
On Sunday he posted: "The United Autoworkers are being sold down the 'drain' with this all Electric Car SCAM. They'll be made in China, under crooked Joe's CHINA FIRST POLICY. AUTOWORKERS, VOTE FOR TRUMP - I'LL MAKE YOU VICTORIOUS & RICH. IF YOUR 'LEADERS' WON'T ENDORSE ME, VOTE THEM OUT OF OFFICE, NOW. WITH THE DEMOCRATS & CROOKED JOE CALLING THE SHOTS, YOU'LL BE JOBLESS & PENNILESS WITHIN 4 YEARS. REMEMBER, BIDEN IS A CROOK WHO HAS BEEN PAID MILLIONS OF DOLLARS BY CHINA, & OTHERS. He is a Manchurian Candidate!!!"  
-The Associated Press contributed to this report