University of Florida bans TikTok on school devices and Wi-Fi, 'effective immediately'
TAMPA, Fla. - In January, the University of Florida was "strongly discouraging" all students, faculty and staff from using TikTok. Now, the school has officially banned use of the social media app on university-owned devices and on devices connected to school Wi-Fi.
In an email to the entire UF system, the school said the ban is part of its compliance with the State University System Board of Governors Emergency Regulation 3.0075 - Security of Data and Related Information Technology Resources. View the original document by clicking here.
The message named five apps that will be banned from installation or use on any university-owned device or network, or to conduct any university business, including marketing or advertising: TikTok, Tencent QQ, WeChat, VKontakte and Kaspersky.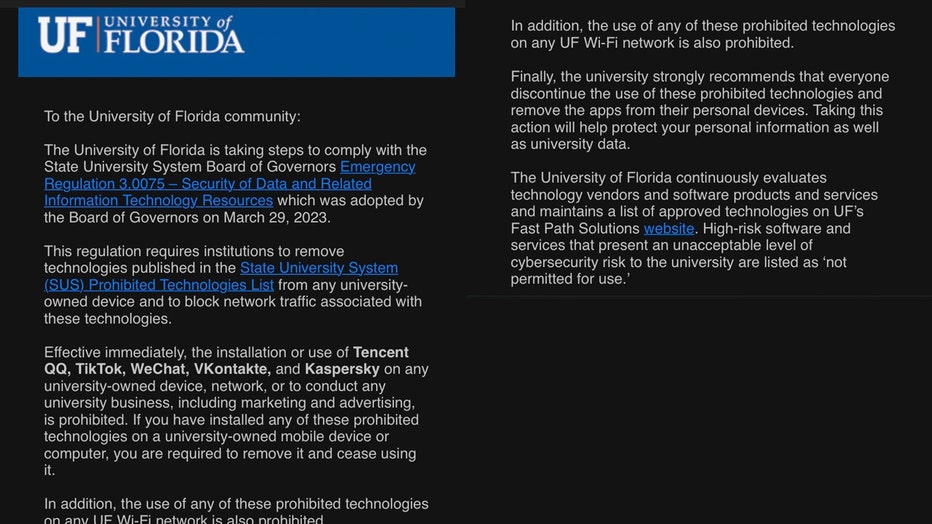 Email sent to University of Florida students, notifying them of TikTok ban (student-provided image)
The University of Florida said it strongly recommends all students, staff and faculty "discontinue toe use of these prohibited technologies and remove the apps from their personal devices."
Earlier this year, a similar message was sent to the UF community from Vice President and CIO Elias G. Eldayrie, who said the school was monitoring risks associated with several apps and technologies.
PREVIOUS: Sen. Marco Rubio introduces legislation to ban TikTok in America
"Prominent experts continue highlighting TikTok as a national security concern, pointing to the possibility that foreign governments may use TikTok to control data collection, influence TikTok's recommendation algorithm, and compromise personal devices," he said.
The University of Oklahoma and Auburn University are among a handful of large state schools to take similar measures, either banning or discouraging the use of TikTok.