Watch: Boaters get incredible front-row seat to humpback whale feeding frenzy
PROVINCETOWN, Mass. - Whale watchers off the coast of Massachusetts were treated to a spectacular show when they encountered a pod of humpback whales at feeding time.
Video taken by photographer Ken Grille shows a huge pod of humpback whales breaching as they feed in Cape Cod Bay off Provincetown on Sept. 13. They were so close, people on board could see the insides of their mouths.
RELATED: Family captures 'stunning' video of synchronized whale breach off Cape Cod
"If you've ever wondered what the inside of a whale's mouth looks like, now you know," the boat's captain can be heard saying as the boat riders watch in awe.
"Discovery Channel, eat your heart out," the captain joked.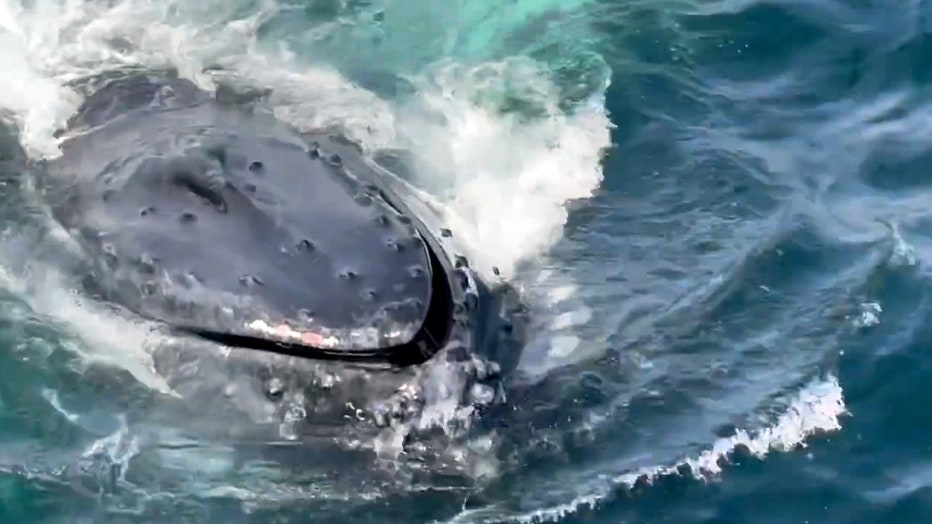 One of the whales breaching as it feeds next to a charter boat (Ken Grille via Storyful)
Grille said the feeding was just one part of an "over the top" day of whale watching.
"Todays whale watch with Hyannis Whale Watcher Cruises was over the top beyond incredible! 100+ Humpback Whales," Grille wrote in a Facebook post. "MULTIPLE groups of over 20 feeding! Even a few breaches. I think I need to go back tomorrow before this stormy weekend breaks them all up."
READ MORE: High school student digs up 34-million-year-old whale skull on family farm
The boat, operated by Hyannis Whale Watcher Cruises, doesn't have a propeller, Grille noted. It sits still when the whales come around, he said.
Whale watching season in Massachusetts is from May - October, when the whales migrate to Massachusetts before going back to warmer water when the weather turns cold.