Woman claims second-degree burns from exploding vape batteries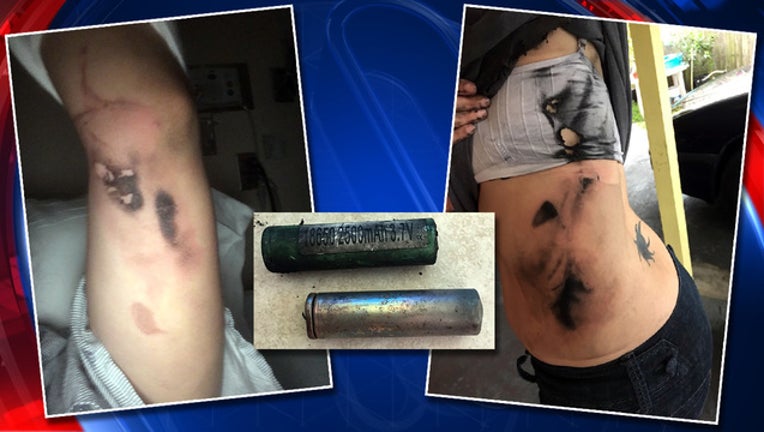 article
RIVERVIEW, Fla. - A Bay Area woman has severe burns and bruises after she says two batteries for a vape device exploded inside her purse.
Melisa Hernandez's clothes were scorched, the back of her arm and side of her body covered in soot and second-degree burns.
"It's burns, bruises, scratches," she said.
The Riverview mom thought someone threw a firework at her family Friday morning. But the heat, smoke and flames were actually coming from two lithium-ion batteries inside her purse.
"I looked down and it's spinning on the ground still with little sparks and fire," said Hernandez. "I turn to the right, and my aunt is throwing water on her eye and she's screaming."
Hernandez says her Aunt's face was burned by the fire shooting from the batteries. Her wounds are painful, but luckily, none of Hernandez's five children were hurt from the explosion.
The pair of batteries were spares she uses for her vape device.

This type of violent and dangerous reaction is rare, but does happen.
"Generally, batteries are safe when used properly," Tampa Vapor owner Mike Synychak said. "Education on how to use a battery, how to store it is very important."
At both Tampa Vapor locations, signs about battery safety are on every counter, and all new customers are required to review and sign a battery-safety disclaimer form.
"Never store battery cells with other metal objects -- coins, keys, etcetera," Synychak read. "If used improperly, cells can explode, vent, or burst into flames."
He says lithium-ion batteries need to be charged properly, always stored in a case or box that keeps them separated, and replaced every six to eight months.
"Accidents do happen with everything, but if you follow the rules, the chances of that are a lot less likely," continued Synychak.
LINK: FDA tips to avoid vape battery explosions
Hernandez tells us her vape device, along with the batteries, is now in the trash. She hopes her story is a warning to others to take battery safety seriously.
"For me, I feel like I did everything the way I was supposed to, did everything safe," Hernandez said. "I just don't think it's worth it, you know."
This is the second time within two months someone in the Bay Area has been severely injured by vape batteries or a vape device.
Back in May, a St. Petersburg man died after his vape exploded. In that case, officials say the shrapnel killed the 39-year-old, and the blast sparked a fire inside his home.