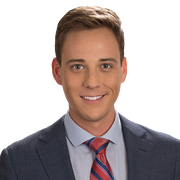 Ty Brennan
Anchor/Reporter
Ty is thrilled to join the FOX 10 News team. Ty co-anchors the Saturday Arizona Morning show and reports on various stories during the week.
Ty grew up in the ski town of Park City, Utah and attended the University of Utah where he graduated with degrees in Mass Communication and Spanish.
Prior to coming to FOX 10, Ty worked in Idaho and most recently in Denver, Colorado where he reported on the most devastating wildfires in state history.
In his spare time, Ty enjoys running, traveling, hanging out with his dog, Hank and putting his pilot's license to good use over the skies of Arizona.
The latest from Ty Brennan
Toys are always a hot item this time of year, and one Valley company has opened a pop-up shop inside some local malls.
Arizona Mobile Education is a field trip that comes to the students.
The FOX 10 food drive is underway and you can donate food or cash at any Safeway or Albertsons store. FOX 10's Ty Brennan shows how the donations will be used to help the less fortunate in the community.
It may look like a holiday party at APS headquarters in Phoenix, but it is so much more.
The countdown is on to help as many kids as possible in foster care have a happy holiday, so that's why Helen's Hope Chest is collecting gifts to give out. During this time of year, it's especially meaningful to them.
Among the thousands of letters at the post office, there are some addressed to a very special person -- Santa.
Hundreds of volunteers are working together to make sure no one goes hungry this Thanksgiving.
Two brand new air conditioning units were donated by Day and Night Air Conditioning, Heating and Plumbing to the Arizona Humane Society and the folks at the humane society say it's a huge gift because this means they can keep doing what they're doing -- rescuing animals.
Police say a man was found in a north Phoenix storm drain by a cleaning crew.