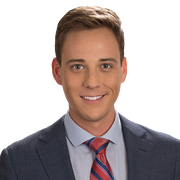 Ty Brennan
Weather Anchor/Reporter
Ty has been thrilled to call the valley home for nearly a decade.  He anchors weather every weekday on "FOX 10 AZAM" 4:30-10am as well as "FOX 10 News at Noon."  Ty can often be seen out of the studio trying his hand at unusual jobs in his "Give it a try Ty" segments.  He also showcases some of the valley's most interesting people and places.
Ty started at FOX 10 in 2013 as a co-anchor of the weekend morning shows, and also reported from the field during the week.
He grew up in the ski town of Park City, Utah and attended the University of Utah where he graduated with degrees in Mass Communication and Spanish.
Prior to coming to FOX 10, Ty worked in Idaho and most recently in Denver, Colorado where he reported on the most devastating wildfires in state history.
In his spare time, Ty enjoys running, traveling, hanging out with his dog, and putting his pilot's license to good use over the skies of Arizona.
The latest from Ty Brennan