Kevin Durant Suns' debut imminent? Cost of tickets spike for Feb. 24 game vs. Thunder
PHOENIX - When the Suns return to the court on Friday following the All-Star break, there's a chance newly-acquired superstar Kevin Durant may make his Phoenix debut.
The Suns have not said when Durant will make his debut with the team, but according to Ticketmaster, the cheapest ticket for the game – an upper-level seat – is being sold for $130, as of Feb. 21.
The game is also being televised to a national audience at 8 p.m. MST.
If Durant doesn't play Friday, his next chance would be on Feb. 26 on the road against the Milwaukee Bucks.
Durant and T.J. Warren were dealt to the Suns in a blockbuster trade with the Brooklyn Nets. Durant hasn't played in a game since Jan. 8 when he injured his knee against the Miami Heat.
In exchange for the 13-time All-Star forward, the Suns sent Mikal Bridges, Cam Johnson, four first-round draft picks, and a 2028 pick swap to Brooklyn.
Durant, who was introduced at a news conference in front of about 3,000 fans last week at the Footprint Center, says he believes the Suns have "all the pieces to be successful."
"I feel like I've still got to prove myself," Durant said. "I want to put good stuff on film every day. That's the only thing I'm concerned with at this point in my life is putting good stuff on film every night. I'm looking forward to doing that for Suns fans, and hopefully, they accept me after that."
The Associated Press (AP) contributed to this report.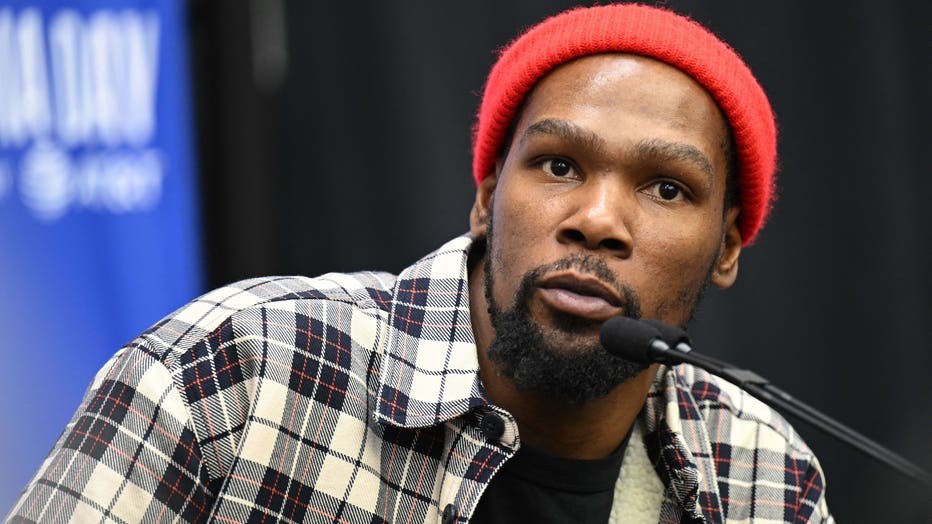 Kevin Durant, of the Phoenix Suns, speaks during a media availability as part of the 2023 NBA All-Star Weekend in Salt Lake City, Utah, on February 18, 2023. (Photo by PATRICK T. FALLON/AFP via Getty Images)
More Phoenix Suns headlines