Maya Moore announces retirement from Minnesota Lynx, WNBA after 8 seasons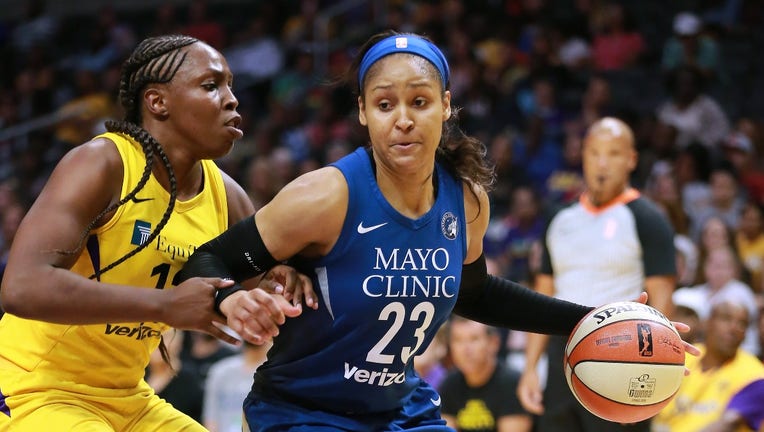 article
MINNEAPOLIS - Minnesota Lynx forward Maya Moore on Monday announced her retirement from the WNBA.
Moore, drafted by the Lynx in 2011, played eight seasons and won four WNBA championships before stepping away from the game in 2019 to focus on ministry and social justice issues. Moore made her announcement on "Good Morning America." She'll leave basketball one of the most decorated players in Lynx history.
Moore will finish her career the Lynx franchise leader in scoring average (18.4), made 3-pointers (530) and steals (449). She finished second in points scored (4,984), made field goals (1,782), assists (896) and blocked shot (176). Moore also holds the Lynx single-season record for scoring and scoring average.
In 271 career starts, she averaged 18.4 points, 5.9 rebounds, 3.3 assists and 1.7 steals per game.
"When I was playing I always tried to bring energy. I always tried to bring light and joy and intensity to what I was doing. I hope people saw me as someone who gave all she had in whatever she was doing. I tried to give my all in those moments," Moore told reporters Monday morning via Zoom. "But also somebody who looks beyond the craft that I've pursued, and tried to value people. Just someone that never gave up."
Moore won WNBA Rookie of the Year in 2011, was a WNBA Finals MVP and made six All-Star appearances in eight seasons. She also won Olympic gold with Team USA in 2012 and 2016. She was named WNBA MVP in 2014.
"On behalf of the Minnesota Lynx organization, I want to congratulate Maya on an incredible basketball career," Minnesota Lynx coach Cheryl Reeve said in a statement. "We will always cherish her time in a Lynx uniform and we wish her the best as she continues to pursue this next chapter of her life."
"I think looking forward, I hope people can find inspiration from my heartbeat for humanity and engaging in sport in a way that remembers that our humanity is first and foremost, and how we play the game," Moore said. "How we leverage the game, how we treat people. There's so many ways you can keep that in mind, and doing things with excellence."
Moore left the Lynx and basketball before the 2019 season and pursued a mission to free Jonathan Irons, who had spent more than 20 years in prison after being convicted in a burglary and shooting in 1998.
The conviction was overturned in 2020, and the two later got married. Moore and Irons had a baby boy in February.
"I couldn't have written this story like this. This has definitely been unexpected but at the same time, it's been really thoughtful and planned and prepared. That's life," Moore said. "A lot of it is unexpected, but you also do your best to try to be prepared. Doing your best to be present and prepared in the moment, and then just persevering through the hard. That's how I've been shaped."