What England fans mean when they say football's 'coming home'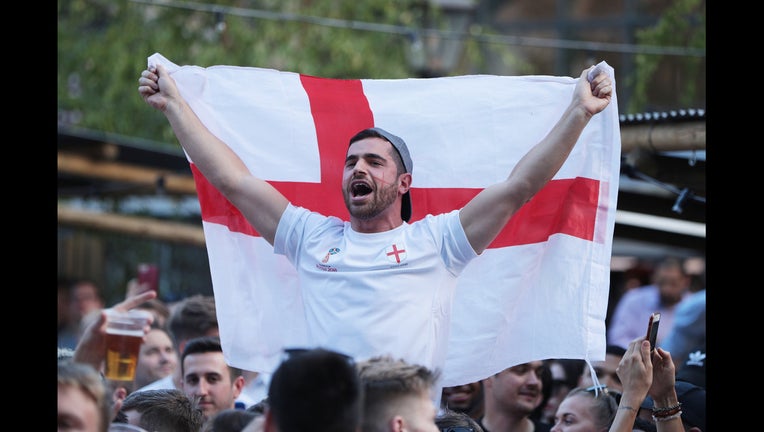 article
(WJBK) - It's coming home.
It's coming. Football's coming home.
At least, that's what long-deprived England soccer fans are hoping. You've no doubt seen or heard the phrase by now, whether chanted at your local soccer pub or splattered on your social media feeds. Now as the Three Lions prepare for today's game against Colombia, we'll explain just what this phrase means -- and why it means so much.
England is thought by many to be the home of modern football, as the birthplace of The Football Association. Back in 1996, the country hosted the European Championship with a tagline "Football Comes Home."
So the popular Britpop band The Lightning Seeds released a song called "Three Lions," joined by David Baddiel and Frank Skinner, comedians and hosts of a popular football comedy show Fantasy Football League. It topped the charts, quickly becoming the national anthem for England's love of soccer and the emblem of the England football team.
While some sports-related songs may preach relentless optimism for victory, "Three Lions" touches on the pain the country's experienced from past losses.
Football's coming home
Tears for heroes dressed in grey
No plans for final day
Stay in bed,drift away
It could have been all
Songs in the street
It was nearly complete
It was nearly so sweet
And now I'm singing
three lions on a shirt
Jules Rimet still gleaming
Watch the music video below:

A little dark, but encouraging nonetheless. So far in the the 2018 FIFA World Cup, England took out Tunisia 2-1, steamrolled Panama 6-1 and lost 0-1 against Belgium. Up next is Colombia in the knockout round. And now, as England boast 2-1 record with no signs of cooling down, fans are frantically hoping that for once and for all, football's coming home.