Arkansas woman nearly gifts winning lottery ticket to ex-father-in-law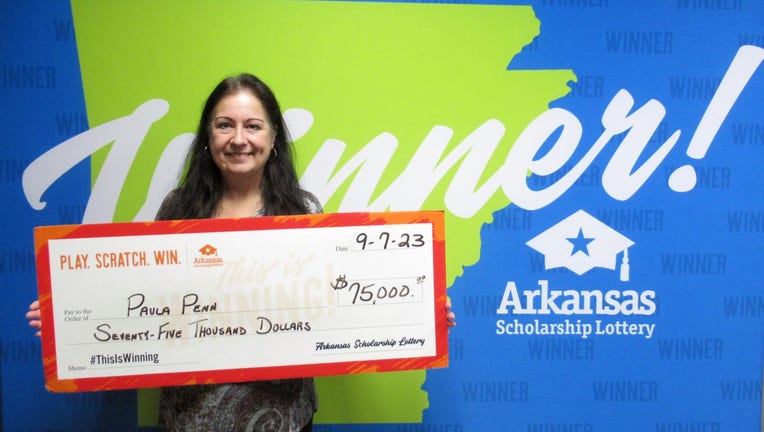 article
LITTLE ROCK, Ark. - An Arkansas woman nearly lost out on a lottery prize after she almost gifted the winning ticket to her ex-father-in-law. 
Paula Penn of Texarkana said she was stunned when she won $75,000 from the Arkansas Scholarship Lottery earlier this month. 
She had won on the $3 $75,000 Jewels instant ticket.
Penn said she had bought some scratch-off tickets for her ex-father-in law as a birthday gift. But she kept one ticket to herself because she realized all the purchased tickets would not fit in his birthday envelope. 
RELATED: 'Big Ugly' 3.29-carat diamond found at Arkansas state park
"That ticket really stood out to me because of the diamonds on it," Penn said in a news release. "I love diamond mining in my spare time." 
Penn was at work when she discovered that she was the winner.
"I asked my boss and co-workers to confirm the win, and the owner gave me permission to leave for the day to come to Little Rock to redeem my prize," Penn added. 
"My ex-father-in-law is definitely going to get a kick out of this story," she continued.
Penn said she plans to pay off her debt and take a vacation later this year with her winnings. 
"I can also quit my second job as an Uber driver," she added.   
This story was reported from Los Angeles.