Pedestrians, driver critically hurt after being hit by car at north Phoenix intersection
PHOENIX - Authorities in Phoenix say four people had to be taken to the hospital following a crash involving pedestrians on Sept. 20.
In a brief statement, Phoenix Fire officials say their crews, as well as Scottsdale firefighters, responded at 1:00 p.m. to the area of Tatum Boulevard and Desert Cove Avenue. In a separate statement, Phoenix Police officials said their officers responded to the area at about the same time.
"When officers arrived, they located the two vehicles involved and the three pedestrians involved," read a portion of Phoenix Police's statement.
According to Phoenix Fire officials, a person needed to be extricated from underneath one of the cars involved in the crash.
There are conflicting reports on how many people were taken to the hospital. Phoenix Fire officials state that four people – a man in his 40s, a man in his 30s, a woman in her 40s, and a woman in her 30s – were taken to the hospital. The man in his 40s was listed in extremely critical condition, while the other three were listed in critical condition.
Meanwhile, Phoenix Police officials state that two pedestrians and a driver were taken to the hospital, with one of the pedestrian, who they identified as an adult man, being considered to have suffered life-threatening injuries.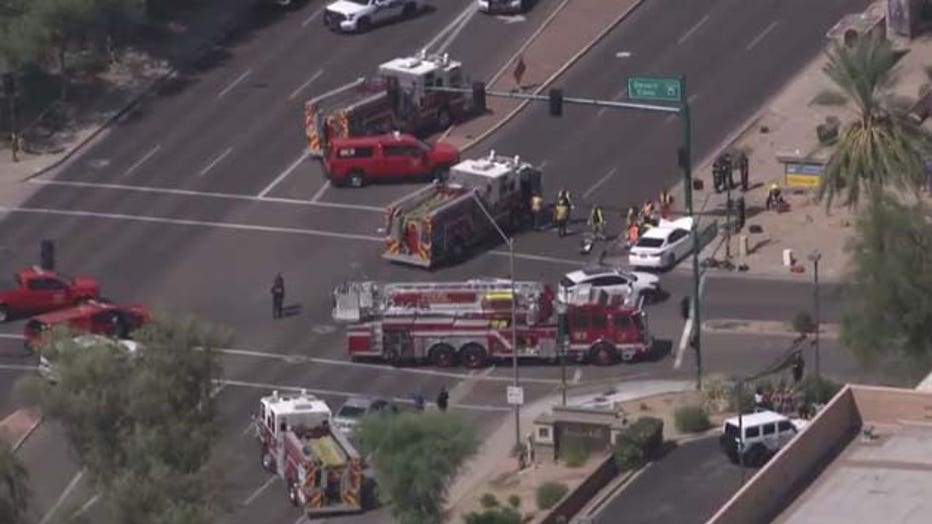 Two men and two women have been rushed to a hospital after they were hit by a car at an intersection in north Phoenix on Sept. 20.
Phoenix Police is investigating the cause of the collision.
The husband of one of the drivers involved in the crash says his wife was heading south on Tatum and that she had the right of way. He says she was making a left turn on to Desert Cove, going into the shopping plaza, when the other car plowed into her, then into the three pedestrians.
That witness also said the driver of the white sedan ran a red light going north on Tatum.
"They were waiting for the light to change, they were just waiting at the corner over there where his car is butted up to," Robert Mazzone, a relative of the driver involved in collision said. "I just heard from the police officer that the guy's leg was hanging off. So I just hope that he's OK."
Fallon Nikprelha, a witness, says the crash put things into perspective for her.
"It's hard to look at that," she says. "They were probably just on their way to work and it ends up like this. It makes you wonder, it humbles you. It makes you realize life is so short and in one second anything could happen."
(Editor's Note: This story has been updated to include information on injuries. Phoenix Police and Phoenix Fire officials have provided different accounts on how many people were taken to the hospital as a result of the incident.)
Area where the crash happened