ADOT to review vanity license plates following antisemitic slur controversy: Here's what to know
PHOENIX - On Aug. 9, officials with ADOT say they will be doing a full review of custom license plates in Arizona.
This announcement came after we alerted them to a license plate that features a word that is known to be an antisemitic slur.
Here's what to know about what happened.
What happened?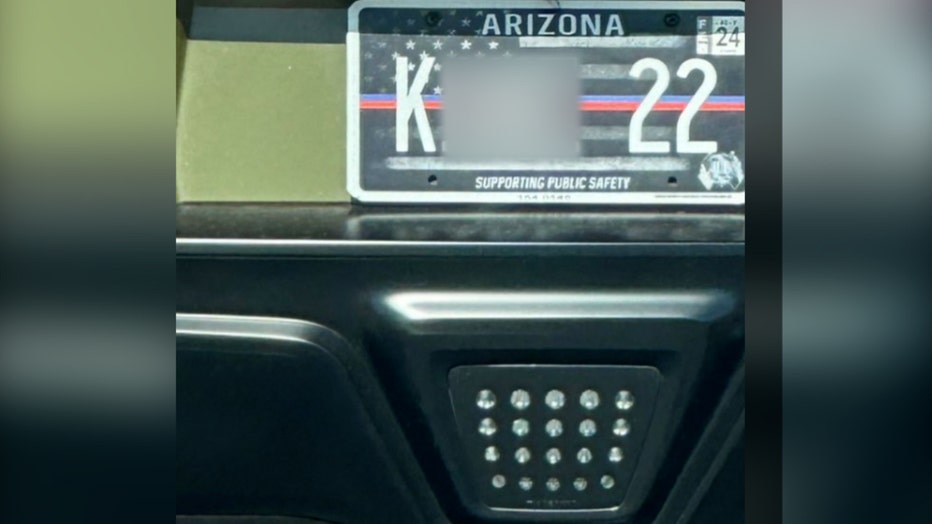 On Aug. 9, the group "Stop Antisemitism" posted a photo of an Arizona license plate to its page on Twitter.
One of the letters in the offending word was replaced with the number '1,' but the word looks similar to a word that, according to the American Jewish Committee (discretion advised), is an offensive, derogatory term for a Jewish person.
Why is the term derogatory?
The term, according to the AJC's website, is "a highly offensive term used to insult and denigrate people of Jewish faith or ethnicity that is widely considered to be a form of hate speech."
"Not only an antisemitic slur, but a very well known antisemitic slur was, in America, in 2023, approved by Arizona Department of Transportation," said Liora Rez with Stop Antisemitism.
According to the AJC, one theory on how the term came to be can be tracked back to the Yiddish word for 'circle,' as a reference to how Jewish immigrants signed their entry forms at Ellis Island upon arriving to the United States.
Reportedly, Jewish immigrants would sign their forms with a circle instead of an 'X,' which they associate with the cross of Christianity. Immigration officers would later describe immigrants who signed firms with a circle as "kikel," which was later shortened into the offensive term.
What are ADOT officials saying about this?
In a statement, ADOT officials wrote:
"Thank you for bringing this to our attention. We have confirmed this is an Arizona plate and note that the customization request involved the commonly used diminutive of the given name Enrique. Given the understandable concern raised by a constituent, ADOT will revoke the plate. ADOT reviews proposed plate customizations with a goal of weeding out offensive terms in the letter and number combinations. We use instances such as this to review and improve this process."
"It could be just a situation where it was just somebody's nickname, but in the Jewish community and in the world of white supremacists, this is a very well known antisemitic slur, so it's very important when we see something problematic, we call it out," said Rez.
The term could be a diminutive?
While major dictionaries, including Merriam-Webster and Cambridge, identify the term as either insulting or extremely offensive, some websites, including behindthename.com and Pampers, have also noted that the term could be a diminutive form of the Spanish name Enrique.
Cambrudge Dictionary defines 'diminutive' as the short form of a name.
It should be noted, however, that according to behindthename.com, the diminutive is pronounced as "Kee-keh," which is different than the pronunciation for the offensive term.
A famous American who uses the diminutive is Los Angeles Dodgers shortstop Kiké Hernández, whose birth name is Enrique Javier Hernández.
According to a 2017 report by the Jewish Telegraphic Agency, teams started to add an accent mark over the diminutive in order to avoid the controversy.
Were there previous controversies surrounding the offensive term?
There have been at least two well-documented controversy surrounding the offensive term in recent decades.
In 1995, the New York Times reported that the song "They Don't Care About Us" by Michael Jackson, as originally written, contained the slur, which led to accusations that the song was antisemitic.
The article states that Jackson denied such allegations during a news program. Eventually, it was reported by the New York Times that the song was recorded with new lyrics that removed the offending word.
In 2021, the Times of Israel reported that Meyers Leonard, who was then a player for the Miami Heat, used the slur while playing a video game on the streaming platform Twitch.
Leonard would later apologize on his Instagram, but according to the AP, Leonard was told by Heat officials to stay away from the team indefinitely. Leonard  was also fined $50,000 by the NBA. He was eventually traded to the Oklahoma City Thunder by Miami, and was released by Oklahoma City shortly thereafter.
Is antisemitism a problem in Arizona?
According to the Anti-Defamation League's 2022 Audit of Antisemitic Incidents, there is a documented rise in antisemitic incidents in Arizona.
Data included in the report states that in 2019, there were 20 reported antisemitic incidents of any kind in Arizona. That number rose to 23 by 2020, and 56 in 2021.
In 2022, the report states there were 53 antisemitic incidents of any kind in Arizona.
We have also reported on a number of antisemitic incidents in Arizona in 2022, including an October incident involving offensive flyers in Tempe, and a report in August about an eighth-grader in the Kyrene School District being subjected to antisemitic harassment.