Arizona's high country experiencing salamander invasion of sorts: 'It smells like death'
PHOENIX - Some viewers have recently reached out to FOX 10 about seeing hundreds of salamanders in the high country.
It almost looks like a horror movie and the smell is awful.
"It smells so bad in here, it smells like death," Haylie Burg said in her TikTok video.
Burg, a Scottsdale resident, recently stopped at her family's vacation home in Flagstaff. The odor of death told her that something was horribly wrong.
"Within that first pile, probably I would say maybe 30-40 then the second pile, maybe 50-70 of them were corroded in there," Burg said.
Burg's story on TikTok quickly went viral. More than a million views in a few days.
"I went to sleep, and when I woke up the next morning, my friends were calling me the next morning, going, you're famous," Burg said.
She tried cleaning the dozens of dead amphibians up, but Burg said the smell was so bad she had to stop.
Many on TikTok thought a gas leak killed them in the garage, but Burg says there was no leak. She believes a storm may have spooked the little guys. They found a crack in the garage to get in, but because they could not keep their skin wet, and could not find a way out, they died.
Burg is not the only one who has seen an invasion in the high country.
"We were unloading stuff into the camper and just noticed out of nowhere we saw one," Donnie Waite said.  "We turned our lights on and saw probably about 40 to 60 of them just walking out and more just kept coming."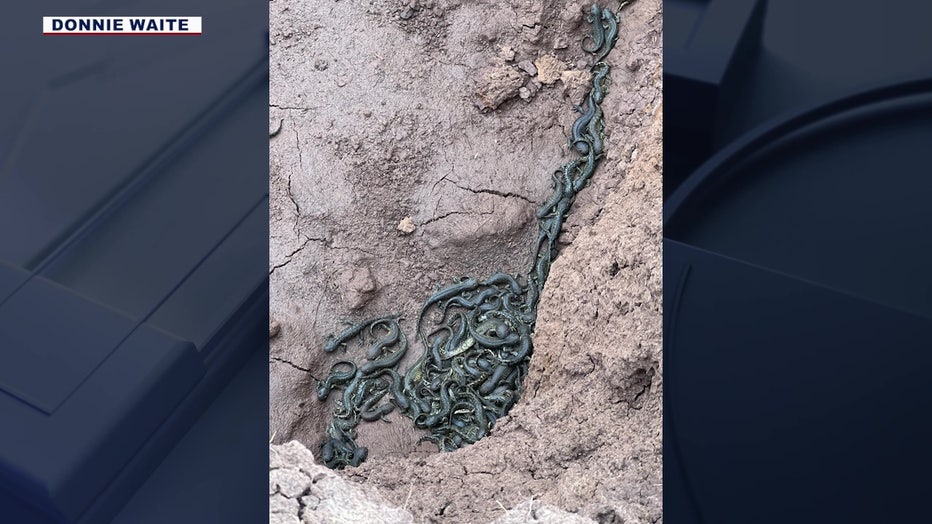 Waite was camping at Mormon Lake, southeast of Flagstaff.
"We finally went in and ended up going to bed and woke up the next morning, and they were nowhere inside," Waite said. "We looked at one of the pits. I was digging out for a septic tank, and there's probably hundreds of them in there."
The salamanders had access to water, so they were alive.
"I've been camping almost my entire life, and I've never witnessed anything like this in my life before," Waite said.
FOX 10 reached out to Arizona Game and Fish to learn more. A spokesperson says that while it's unusual to see that many salamanders in one area, the behavior of them moving through together is normal, and they should move away on their own.
"It's a lot of them and pretty intimidating looking if you don't know what they are or what's going on," Waite said.
Burg was so grossed out and in her TikTok video she said she did not want to clean the dozens of dead salamanders up.
Lucky for Burg, her dad was nice enough to complete the cleanup job.