Arizona Rattlers football player dies after being shot in driveway of Phoenix apartments
PHOENIX - Phoenix Police say a man has died after he was shot in the driveway of an apartment complex early Friday morning near 44th Street and Thomas Road.
Police say 25-year-old Lance McDowdell was taken to a hospital where he later died.
McDowdell was a defensive lineman on the Arizona Rattlers indoor football team.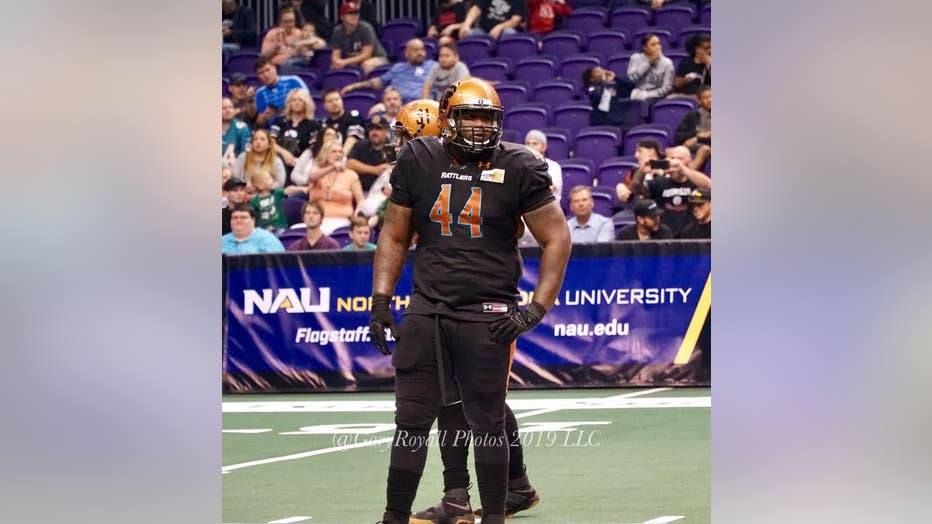 The Arizona Rattlers have learned of the passing of Lance McDowdell.
Lance represented the Rattlers organization with pride and dedication and we send our condolences to his family during this time.
Due to this being an ongoing criminal investigation, the Rattlers will respect the investigation and will not have any further comments until the investigation is completed.
On Friday, FOX 10's Justin Lum spoke with McDowdell's family, who lives back east.
"You could just hear him speak, and he just has a soft voice, so he's so playful. He's always joking," said Cedeño Patrick, McDowdell's cousin who became his mentor, coach and a father figure, helping McDowdell reach his potential on and off the football field.
This past season, McDowdell earned second-team All-IFL honors as a Rattlers defensive lineman.
"So, he had made it out and he's staying and living in Arizona, and to think it would happen outside there where people just don't know you," said Patrick.
McDowdell was a standout high school athlete in New York who went on to play at the University of Central Florida before nearly making NFL rosters. McDowdell had hoped to get another shot after a successful season with the Rattlers. That opportunity is now cut short.
"He was so much inspiration and motivation, that you could come out of the North Bronx in New York and Mount Vernon and do something right with yourself, and to take him away, it pretty much shut down an entire city," said Patrick.
McDowdell's girlfriend, who is remaining anonymous for her safety, said this could've been their first Christmas together.
"We were together and I woke up and he wasn't next to me," she remembered.
Outside of her apartment was an ongoing shooting investigation. "I don't think they care to solve it. It's just another black man. First thing they asked me was, 'Does he do drugs, does he sell drugs?' He's an athlete, he plays Fornite all day," she said.
Police haven't come back to pick up evidence after notifying them, she said. She's not even sure if they collected surveillance video.
"It was a sloppy job," she said, recalling the aftermath of the scene. "I had to come walk into my apartment with his blood everywhere." 
However, she can still remember the man she loved in a positive light. "He loves unconditionally and he would do anything for his friends and he would do anything for his family." 
Adding, "Why would he take somebody's life away from everybody that loves him, I don't know why somebody would do that." 
Anyone with information concerning this incident is encouraged to contact the Phoenix Police Department at 602-262-6141 or if you wish to remain anonymous, you can call Silent Witness at 480-WITNESS, 480-TESTIGO for Spanish.
GoFundMe for Lance McDowdell