Route Fire in Castaic fully contained
LOS ANGELES COUNTY, Calif. - As temperatures soared across Southern California due to a late-summer heat wave, a brush fire erupted in Castaic, prompting a freeway closure, evacuations, and sending seven firefighters to the hospital.
The "Route Fire" sparked around 12:20 p.m. Wednesday near the northbound lanes of the 5 Freeway, just north of Lake Hughes Road, according to Angeles National Forest officials. The fire shut down both directions of the 5 Freeway before reopening Thursday afternoon.
Fire officials said the fire burned 5,208 acres and was fully contained on Sept. 6.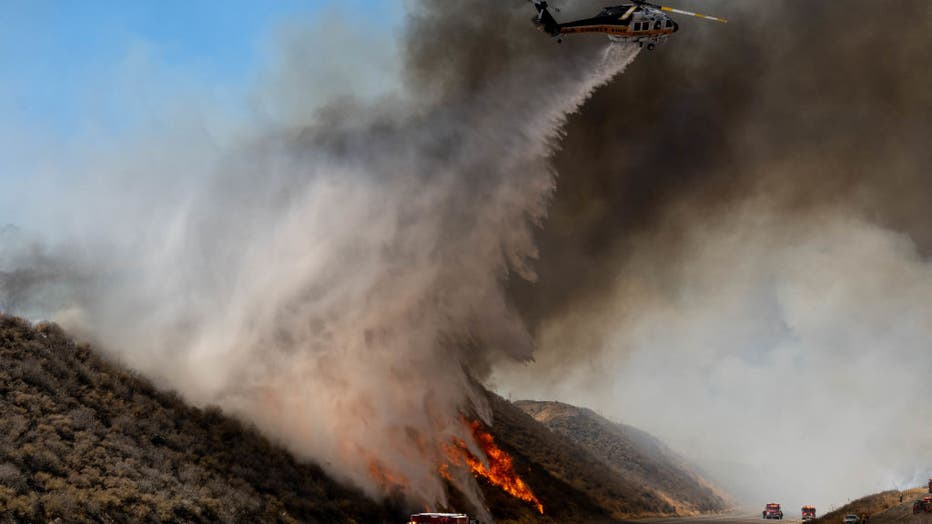 The blaze destroyed a mobile home on the 34900 block of Ridge Route Road between Castaic Lake and the 5 Freeway.
Angeles National Forest Fire Chief Robert Garcia said during a news conference late Thursday morning that the massive fire should "be a wakeup call for us all" and that crews are anticipating "rapid fire growth and explosive fire behavior" Thursday as temperatures quickly soar past 100 degrees.
Castaic Lake was closed during firefighting efforts but has since reopened.
On Wednesday night, seven Los Angeles County firefighters suffered heat-related injuries while battling the blaze. Fire officials said all seven firefighters were treated and released by Thursday morning. 
When the fire first ignited, FOX 11 Meteorologist Maria Quiban said it was 107 degrees in the Castaic area, which is roughly 10 miles north of Santa Clarita. 
Firefighters from multiple agencies were working to knock down the hillside fire including CAL Fire, the Los County Fire Department, and the Angeles National Forest.
Super Scooper helicopters from Canada also worked to battle the blaze, dropping water drops and fire retardant. 
ROAD CLOSURES
The fire shut down both directions of the 5 Freeway between Lake Hughes Road and Templin Highway for about 24 hours before reopening Thursday afternoon. LASD warned the public at the time of roads reopening to expect major delays, even with the freeway back open. 
EVACUATION ORDERS
During the early parts of the fire response Wednesday evening, the Los Angeles County Sheriff's Department said between 100 and 200 homes were ordered to evacuate due to the fire. 
On Thursday night, authorities lifted all mandatory evacuation orders.
Prior to being lifted Thursday night, the following areas were previously under evacuation orders:
Old Ridge Route Road
South of Templin Highway
North of Northlake Hills Elementary School
Old Ridge Route Road between Templin Highway and Northlake Hills Elementary has reopened for residential traffic. LASD said drivers will need to show their ID to officials if they want to drive through that area.
Just before 5 p.m. Wednesday, Los Angeles County supervisor Kathryn Barger tweeted that Northlake Hills Elementary School in Castaic was being evacuated due to the fire. Barger said that only 10 students and staff members were on campus Wednesday but sheriff's deputies were there to ensure a safe evacuation.
FOX 11's Alexa Mae Asperin, Joe Calabrese, and KJ Hiramoto contributed to this report.