Colorado pulls off opening shocker in Deion Sanders' debut, 45-42 over No. 17 TCU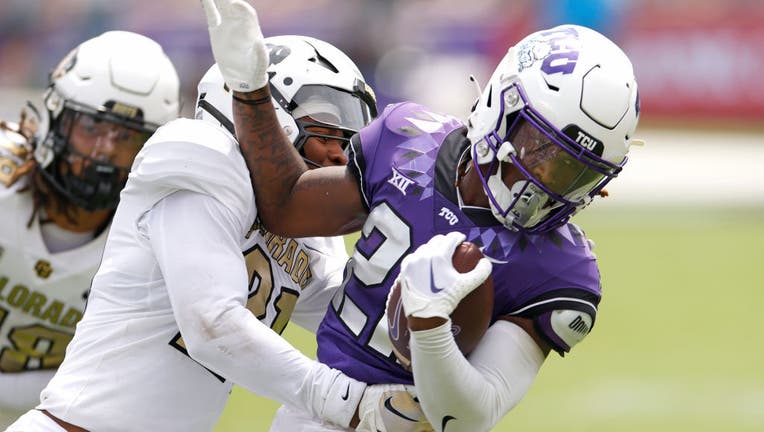 article
FORT WORTH, Texas (AP) - Deion Sanders had Colorado ready for prime time after all of the hype and attention in the nine months since Coach Prime was hired.
Shedeur Sanders, the coach's son, threw for 510 yards with four touchdowns, the game-winner a 46-yard catch-and-run by freshman Dylan Edwards with 4:25 left, and the Buffaloes pulled off an opening shocker with a 45-42 win Saturday over 17th-ranked TCU, last year's national runner-up.
Edwards caught three touchdowns, including a 75-yarder in the opening minute of the second half when he turned another short pass into a big play. He also ran for another score. 
Two-way starter Travis Hunter, the former top recruit who came with the quarterback and coach from FCS school Jackson State, had 11 catches for 119 yards. As a defensive back, he had one of the two interceptions that TCU's Chandler Morris threw in or near the end zone. 
Deion Sanders came to Boulder, Colorado, to revitalize a long-dormant program, and he did so with an unprecedented roster flip.
Hunter, Edwards and Shedeur Sanders are among 87 newcomers at Colorado, which won only one game last season and has only two winning records since 2005. 
Coach Prime already has a signature win.
Sanders completed 38 of 47 passes and the Buffaloes had four 100-yard receivers: Hunter, Edwards (five catches, 135 yards), Jimmy Horn Jr. (11 catches, 117 yards) and Xavier Weaver (six catches, 118 yards). Colorado outgained TCU 565-541.
Morris was 24-of-42 passing for 279 yards and two touchdowns. Emani Baily ran for 165 yards.
MORE: TCU Horned Frogs Coverage
Trey Sanders had three TD runs, including a 1-yard run for a 42-38 lead two plays after Major Everhart's 86-yard kickoff return.
Edwards' game-winning score came on a fourth-down play. He took a pass in the flats, made a slight hesitation and then raced down the sideline past the TCU defense.
TCU's final drive came to an end with a fourth-down stop around midfield, and Colorado, playing its final season in the Pac-12 before returning to the Big 12 to share a conference with the Horned Frogs, was able to run out the final minute.
UP NEXT
Colorado: Six months after 50,000 people were at the spring game on a snowy April day, the Buffs play their home opener with Deion Sanders on Saturday against Nebraska (0-1) and new coach Matt Rhule. It's only their third meeting since 2010, the last season both teams were in the Big 12 together.
TCU: The Frogs are home next Saturday night against FCS team Nicholls (0-1).