Disneyland says goodbye to iconic Splash Mountain ride
ANAHEIM, Calif. - It's the official end of an era at Disneyland in Anaheim. 
RELATED: Disneyland announces closing date for Splash Mountain
The iconic Splash Mountain ride, which opened in 1989, will operate for the final time on Tuesday, May 30, Disneyland officials announced last month. The ride will then officially close Wednesday. 
The ride will undergo an extensive makeover and will reopen as Tiana's Bayou Adventure – featuring Disney's first Black princess – in late 2024. The new ride will be based on the 2009 animated film "The Princess and the Frog."
RELATED: 
The redesign is a continuation of Disney's "longstanding history of updating attractions and adding new magic," according to the original announcement, and the new ride will be "one that all of our guests can connect with and be inspired by, and it speaks to the diversity of the millions of people who visit our parks each year."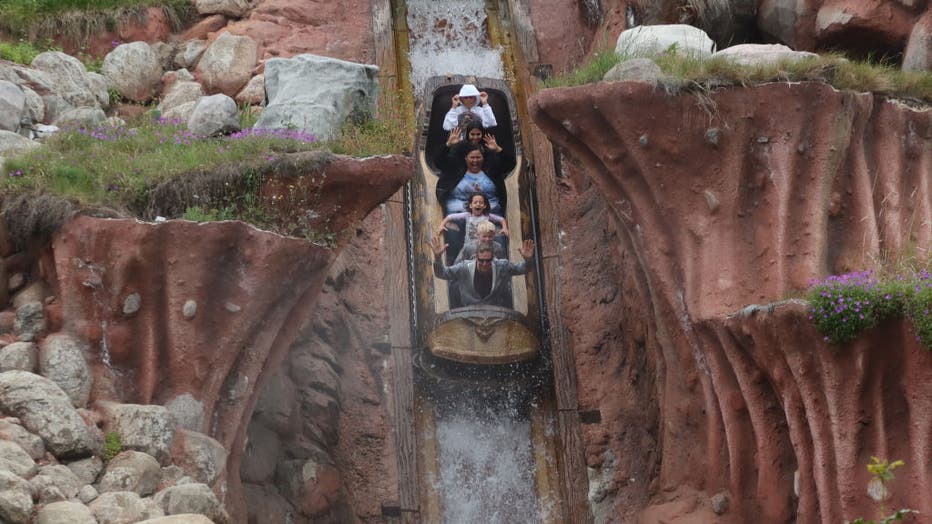 People ride the Splash Mountain attraction at the Disneyland theme park. (Photo by Gary Hershorn/Getty Images)
The Splash Mountain ride in Florida's Disney World closed in January.
The Disney World ride, which opened in 1992, closed after it was announced in 2020 that Disney had plans to "reimagine" the ride after numerous complaints due to its association with the 1946 movie "Song of the South."
With racist stereotypes and Old South tropes, "Song of the South" is a mix of live-action, cartoons and music featuring an old Black plantation laborer named Uncle Remus who enchants a white city boy with fables of talking animals.
Groups including the NAACP protested the film's initial release. The NAACP in 1946 called it an "idyllic master-slave relationship which is a distortion of the facts." Its characters appeared as animatronics in Splash Mountain, which also featured songs from the film.
The Associated Press contributed to this report.