Events, things to do in Phoenix this weekend: Maui fundraisers, Sip + Shop, and more
Need plans this weekend? Check out a 21+ event at the Arizona Science Center, a sip and shop event at Hotel Valley Ho, a rap competition in downtown Phoenix and more.
Cave Creek
Ice Cream Social at The Finer Arts Gallery
"Summer temperatures may be sizzling, but guests to The Finer Arts Gallery's "Ice Cream Social" on Friday, August 18 can cool down with a delicious, free treat while browsing new art and meeting many talented artists. From 5 p.m. to 7 p.m., guests can mingle inside the spacious gallery and indulge in refreshing ice cream with a variety of flavorful toppings."
Chandler
Maui Fire Relief Tournament at Pickleball Kingdom
"Mark your calendars for August 20th, 2-5pm, as Pickleball Kingdom proudly presents a Round Robin Tournament like no other.
We believe in the power of unity, and that's why we're dedicating 100% of this event's proceeds to support those impacted by the devastating Maui Fires. All entry fees of $100 will be donated to the Hawaii Community Foundation, working tirelessly to rebuild lives and dreams."
Glendale
Hot Wheels Monster Trucks Live Glow Party
"Don't miss the only opportunity to watch your favorite Hot Wheels Monster Trucks – Mega Wrex™, Tiger Shark™, Boneshaker™, Bigfoot®, and more, plus the all-new Gunkster™ – light up the floor in outrageous monster trucks competitions and battles.
Event performances will also feature a dazzling dance party, spectacular laser light shows, and Hot Wheels toy giveaways. Plus, for the FIRST TIME EVER, the fire and frost-breathing, transforming dragon ARCTICGON, and the electrifying high-flyers of Hot Wheels Monster Trucks Live, Freestyle Motocross!"
Gilbert
Sweat For The Cause at Suffer City
A fitness competition with rounds of 24 participants going through the workout each hour. All proceeds raised from the event benefit The Bowyer Battle and support its mission of offering financial support to children and families facing cystic fibrosis.
Phoenix
Free Family Summer Saturdays at Heard Museum
"Makers, artists and crafters, this day is for you! Join us for our first Family Makerspace Day, which celebrates creativity, curiosity and multiple technologies. Artists, community partners and Heard Museum staff will host activity stations, where the whole family can learn new skills and create art to take home with them."
Official Luc Belaire Annual 16 Bar Freestyle Competition
"Welcome to the biggest hip-hop event to ever hit Phoenix. This exciting event will transport you back to the roots of the culture, paying homage to the art of freestyle. Watch as the hottest unsigned MCs in the Southwest compete for a $10,000 grand prize.
Celebrity guests from Maybach Music Group will pick the ultimate winner. Exclusive merch is available, as well as food by our amazing event sponsor, Lo-Lo's Chicken and Waffles."
Science with a Twist: Mission Amazing
"Whether it's a date night or a night out with friends, join us for Science With A Twist! This 21 and older after-hours experience provides time to explore, play and enjoy entertainment designed specifically for grownups.  
Sip cocktails, watch live demonstrations, take part in hands-on activities and explore all four levels of the Science Center. Groove to a live DJ or sit back and rock out in the Dorrance Planetarium while being dazzled by laser light shows set to the music!"
Scottsdale
Arizona State Poker Championship
"The Arizona State Poker Championship returns to The ARENA Poker Room at Talking Stick Resort August 18 - 22, 2023. The tournament, now in its 17th year, is the biggest of the year attracting players of all skill levels from all over Arizona and beyond! Each vying for the chance to win a share of the estimated $1.1 million prize pool."
Dog Fun Festival
"FREE Dog Event with dog races, photo ops, agility course, dog trick contests, pup cups, food & alcohol, prizes, giveaways and more!"
Sip + Shop Summer Market Series
"As summer heats up and the local farmers markets wind down, we're celebrating local chefs, purveyors, and (most importantly) some of our favorite wines and spirits, with a festive and free indoor market series. Savor six tastings of wine, beer, and spirits, enjoy live music, and get a 20% off voucher to use at ZuZu within 30 days. Food by top local chefs will also be available for purchase."
Tempe
Bike Rodeo
"We'll have fun bicycle games, an obstacle course and free children's helmets (while supplies last!) as well as bike tune ups and helmet fittings.
Don't miss this fun family event to boost your kid's confidence on the bike and help them learn safe bicycling skills at the same time."
Dine out for Maui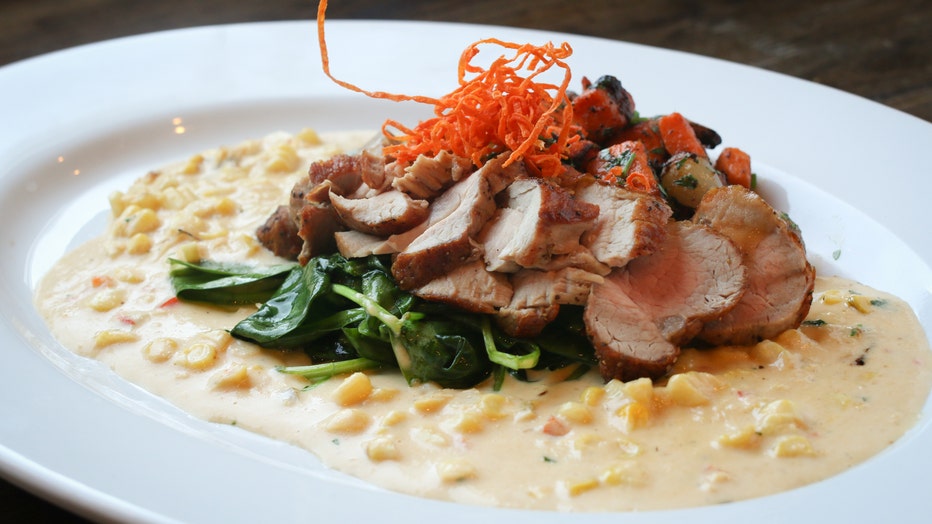 Rusconi's American Kitchen - Knife and Fork Media
The following restaurants are raising money this month to support those affected by the Maui fires:
Crujente Tacos: 100% of proceeds from their $7 pork belly tacos to be donated.
Rusconi's American Kitchen: Portion of proceeds for their pork tenderloin entree to be donated.
Kaizen: Raffling off a $500 gift card - all proceeds from the raffle go to the fundraiser.
Original Breakfast House: A fundraiser with food specials, live music and more.
Chula Seafood: Raffling off a $500 gift card - all proceeds from the raffle go to the fundraiser.
Vecina: 100% of proceeds from their $20 short rib barbacoa taco with sweet corn and Anaheim chilis will be donated.