Four people arrested during downtown Phoenix protest on July 18
PHOENIX - Four people have been arrested following a night of protests in downtown Phoenix on July 18, police say.
Several dozen people started protesting that evening near 3rd Avenue and Washington Street, and the marching lasted for several hours.
Police say the group stopped to block major streets and ignored warnings to clear the roadway.
It's not entirely clear what the group was protesting.
Investigators say Lee Percy Christian got into a fight with an officer. During that fight, officers stated that they shot a diversionary round to disrupt the scuffle. It created a loud bang, which ended the fight. 
"No other munitions or less lethal devices were deployed," stated Sgt. Tommy Thompson.
During this time, "Ryan Tice attempted to keep officers from arresting one of the other suspects by attempting to pull officers away," said Thompson.
Those arrested include:
Kristen Bird, 29, for obstructing a public thoroughfare and resisting arrest
Jonah Ivy, 22, for obstructing a public thoroughfare
Lee Percy Christian, 27, for obstructing a public thoroughfare, aggravated assault on an officer and resisting arrest
Ryan Tice, 22, for obstructing a public thoroughfare, hindering prosecution and resisting arrest
All four people were booked into the Maricopa County Jail.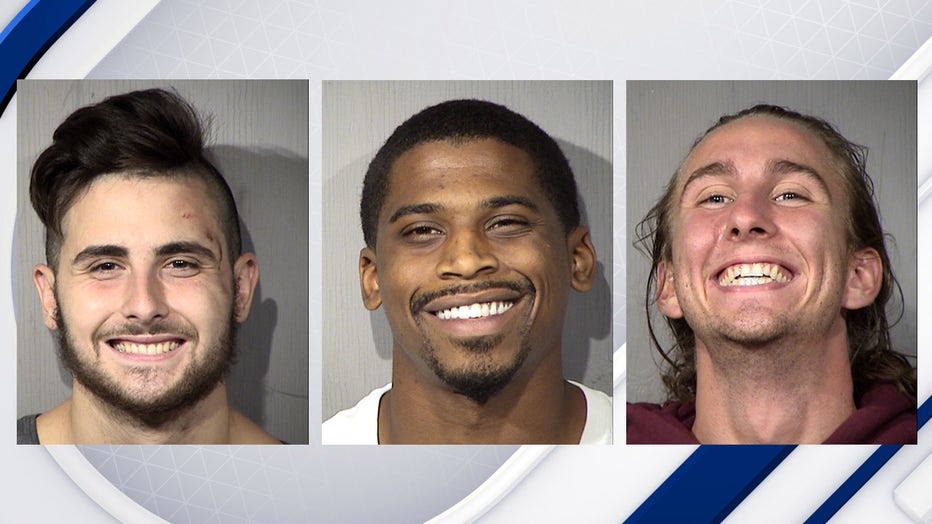 From left to right: Ryan Tice, Christian Lee Percy, Jonah Ivy (Kristen Bird's mugshot not yet available) / MCSO
Tune in to FOX 10 Phoenix for the latest news: