Hawaii wildfire death toll drops from 115 to 97 with new DNA evidence
The Maui Police Department confirmed Friday that the number of fatalities from the Hawaii wildfires dropped from 115 to 97 after additional DNA analysis.
Many identifications were done by comparing DNA profiles to DNA samples from relatives. Additionally, officials said their teams have also used other methods of identification, such as looking at dental records, surgical hardware and pacemaker serial numbers. Officials said they also worked with FBI agents and community members to track down information.
"We're doing everything we can to make sure that we have these folks as complete as possible and to strive forward and bring closure to the community," said Dr. Jeremy Stuelpnagel, medical examiner for Maui County.
Steulpnagel noted there have been some challenges involved in identifying the remains, particularly due to the state of the remains from the wildfire heat. For example, some remains are fragmented, while others are down to the bone.
HAWAII WILDFIRE SURVIVOR MAKES EMOTIONAL RETURN TO CHARRED REMAINS OF HOME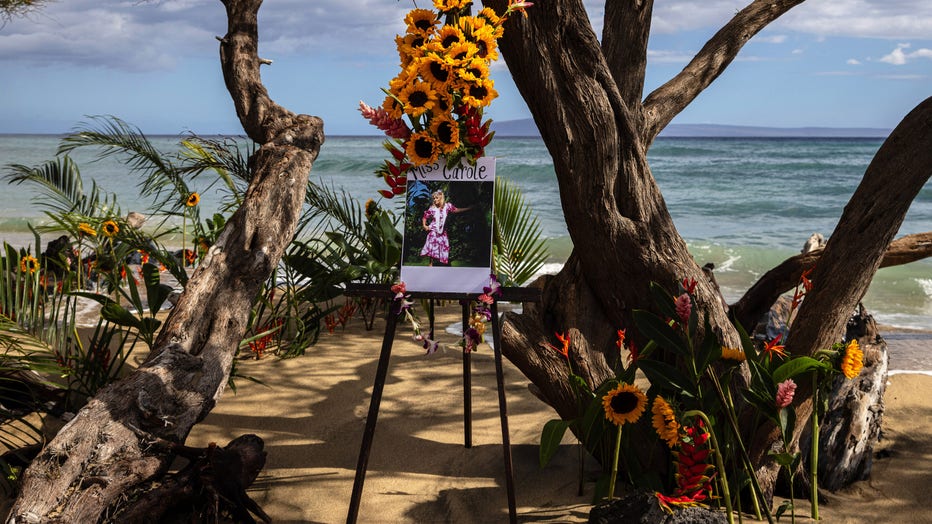 A tribute to Carole Hartley, who died in the Aug. 8 fires in Lahaina, stands at Ukumehame Beach near Lahaina, HI, during a celebration of her life on Aug. 28, 2023, what would have been her 61st birthday. (Photo by Tamir Kalifa for The Washington Pos
Officials noted that the number of fatalities may continue to change, as forensic anthropologists and other experts pore through the rest of the remains. Steulpnagel said that is the reason for the change in the death toll.
Of the 97 fatalities, 74 of the individuals have been identified. The most recently confirmed identifications were those of Marilou Dias, 60, and June Anbe, 78, of Lahaina. Their next of kin have been notified.
"For the very first time, we legitimately have a chance. We legitimately have a chance to identify every single person we lost and to reunite them with their families," said John Pelletier, chief of police in Maui County. "In the midst of all this tragedy, there's a little ray of hope right there."
Officials added that 31 people are currently unaccounted for, down from more than 3,000 originally. According to Pelletier, each one of the 31 has a missing persons report associated with the case.