Multiple cars shot at on I-10 in Avondale, killing 1 and injuring several others
AVONDALE, Ariz. - A suspect has been arrested for allegedly shooting at several cars on a west Phoenix freeway that resulted in the death of one driver, authorities said.
Avondale police said 29-year-old Raymond Pipkin has been taken into custody on suspicion of multiple felony charges including first-degree murder.
At around 1 p.m. on Nov. 19, police responded to reports of a suspect shooting at cars traveling on Interstate 10 before crashing into a motorcycle and other vehicles.
Police say it all started at a red light near 107th Avenue and McDowell Road and a witness told detectives the suspect was staring him down after they exited the freeway. According to the police report, the victim asked the suspect if they were "good," and Pipkin replied, "we are now," and fired into the vehicle.
The victim drove off and proceeded to head westbound on McDowell Road with the suspect following him.
Officials say Pipkin went on to shoot and kill 34-year-old Gabriel Sotelo and wounded a 14-year-old in the passenger seat. That was just a couple of blocks away from the first shooting near Avondale Boulevard and McDowell Road. Pipkin then crashed head-on with the motorcyclist.
Pipkin exited his vehicle, and punched another person before running from the scene. Police say at one point, Pipkin went up to a homeless man, asked him if he was ready to die, then shot him in the face. That victim sustained a gunshot wound to his cheek that and remains hospitalized.
Pipkin also fired at another car with a father and daughter inside, but they were not injured.
An eighth victim reported being shot at, but was not hurt.
Detectives say Pipkin confessed and said he felt guilty, but did not provide a motive.
During the investigation, roads were closed at Avondale Blvd. between Interstate 10 and Encanto Blvd., as well as McDowell Rd., between 107th and 119th Ave. They have reopened.
Family members speak out
As the investigation continues, loved ones of one of the victims are speaking out.
"I'm proud to be Gabe's mom. He was a happy child. He loved life," said Shelly Sotelo.
"He stepped in when my father didn't, and it just feels like I lost my father on Saturday," said Isaias Gallardo, Gabe's nephew. "I just hope to be half the man that he was. I hope to be there for my family like he was for his."
On Nov. 21, family and friends of Gabe gathered outside his barber shop, and lit candles for him. A vigil also took place on Nov. 22.
"Overall, just an amazing person to be around," said Ryan Peete "It was hard losing him. When I got here, it just doesn't feel real because he doesn't do anything to anybody. He just gives to everybody."
For Shelly, the help and the support at the vigil meant the world.
"The cards and the notes and things that they have to say about him, just make a mother's heart happy and joyful, because he was loved so much by people. So I am very happy for that," said Shelly.
Even with the love and support, however, Shelly's pain will never fully go away.
"It's just hard. My son is gone, and he's not coming back," said Shelly. "Every day, I have to realize that, and I have to make sure his kids are loved, and they know that I'm there and that I'm not going to leave them."
On Nov. 22, Sotelo's wife, as well as one of Sotelo's children, spoke out about Sotelo's death.
"That's my high school sweetheart. He's the love of my life. He's all I knew. He was mine, and I was his," said Angelica Sotelo. She and Sotelo were together for 17 years. "It's going to be really hard to move on without him, because he was literally the backbone for our family."
The Sotelos had children.
"My children are so young, and all he wanted was to watch them grow up. He wanted to be here to watch them grow up. And that was stolen from us," said Angelica.
"He was robbed from us," said Sotelos' son, Gabriel. "He taught me how to become a man. I wanted to show him I could go big for him. I still gotta do that for him."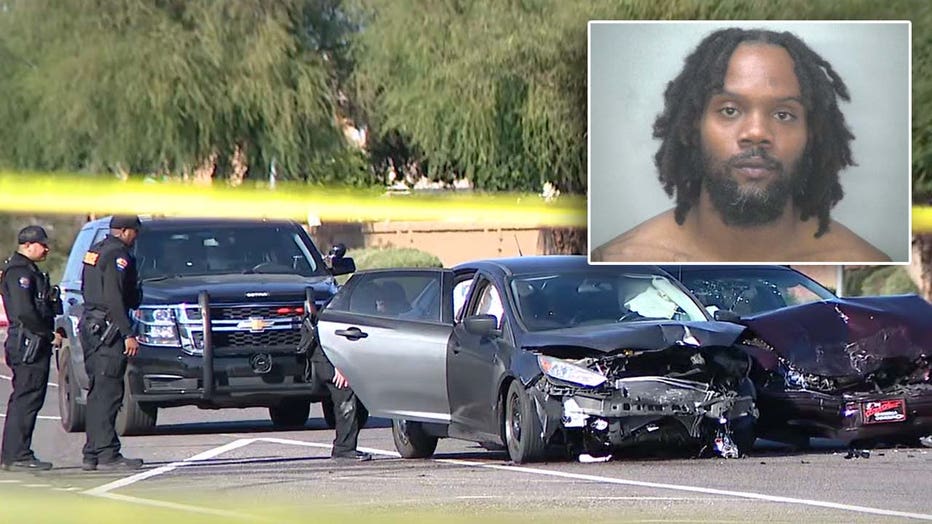 Avondale crime scene near Avondale and Encanto Blvds. on Nov. 19, 2022.
More Arizona headlines: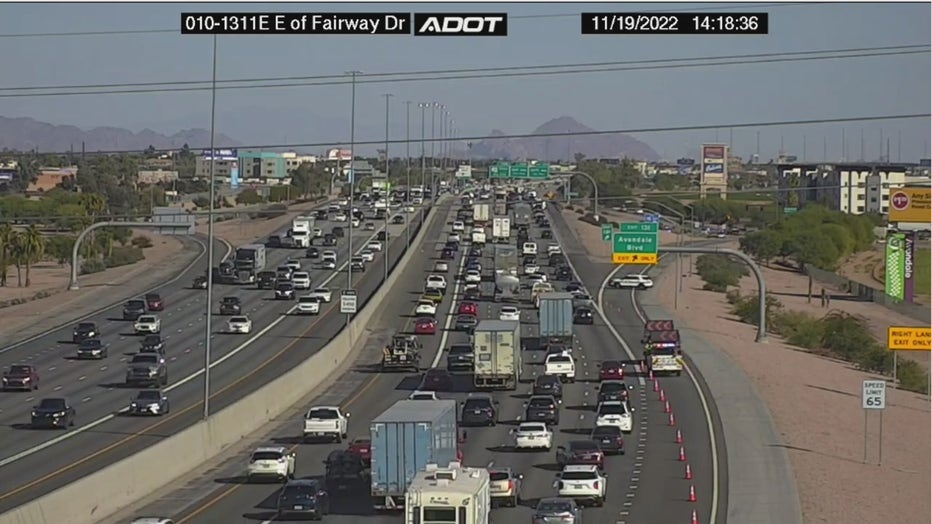 The I-10 off-ramp at Avondale Boulevard was closed for the investigation on Nov. 19.
The Associated Press contributed to this report.