New York drone captures multiple sharks hunting near Long Island shore
NEW YORK - Drone footage Tuesday over New York spotted multiple sharks hunting fish close to the shore of Long Island.
The video, which was shot by Joanna Steidle, of Hampton Drones, captured the sharks lurking near large schools of fish. The fish can be seen forming into bait balls in a bid to protect themselves from the animals.
Steidle told Storyful all the footage was filmed "within 100 feet of the coast of Gin Beach and Coopers Beach in Southampton Village."
'Expected throughout the rest of August'
"With waters getting increasingly warmer, bait balls are dramatically increasing in size and are coming in closer to the shoreline. And the sharks and other predators follow their food source," Steidle said. "Sightings like this are now almost a daily occurrence in the Hamptons and can be expected throughout the rest of August."
The newly-released drone footage comes after a woman was bitten Monday at Rockaway Beach in Queens, prompting the New York City Parks Department to close the beach to swimming and surfing.
The attack happened just before 6 p.m. near Beach 59th St. and Rockaway Beach. 
According to authorities, the 50-year-old woman was swimming, around 10 ft. or so into the water. When first responders arrived on the scene, she was found unconscious, either from blood loss or shock.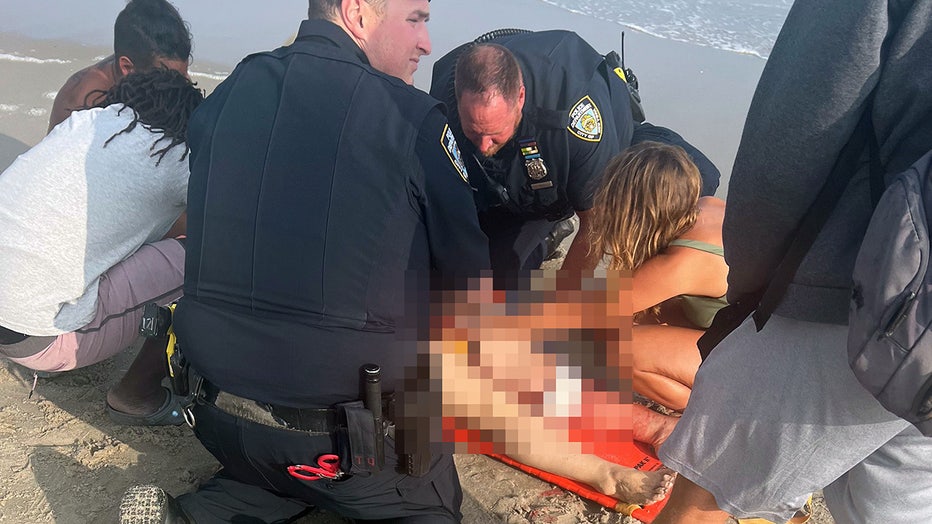 This image, blurred by FOX 5 NY, shows emergency responders helping the victim.
The victim was taken to a hospital in critical condition, but is now listed in serious but stable condition, police said.
Two drones, as well as a NYPD helicopter, were up this morning searching for any signs of a shark or sharks.
The Parks Department wants to make sure conditions are safe before reopening the beach.
Last month, there were three shark attacks in just two days on Long Island, with a total of five people bitten in the first week of July.
A 10-foot shark was also found in the water at Robert Moses State Park. Long Island Beach delayed its opening after a drone spotted a group of 50 sand sharks off the coast.
How do you stay safe from sharks?
Experts say there are several ways to help stay safe from sharks:
Avoid areas with lots of fish.
Never go out swimming at dusk or dawn.
Only swim when there's a lifeguard on duty.