Lori Vallow's only living child, Colby Ryan, takes the stand in trial of his siblings murders
PHOENIX - There was tension in the courtroom during the Lori Vallow trial in Boise, Idaho as the only living child of the so-called doomsday mom took the stand.
We've spoken to Colby Ryan multiple times during the coverage of this case. He's the older half brother of Tylee Ryan and JJ Vallow who was adopted into the family.
Colby stayed in the Valley when his mom and siblings moved to Rexburg, Idaho.
Since then, he's been blindsided by tragedy. From the disappearance of the two siblings, to when authorities discovered the children's remains in eastern Idaho.
On April 18, Colby testified, and told the prosecution how Lori would not tell him where the family moved to. He said he would text his sister Tylee, but the responses didn't sound like her style of talking.
Gilbert Police contacted Colby in late November asking him if he knew where his siblings were. He had no idea and Lori wasn't cooperating with law enforcement.
When Colby called on Thanksgiving of 2019, Lori's phone was off.
The next several months would be frustrating for Colby as Lori vacationed in Hawaii with her new husband Chad Daybell.
Even when Lori was arrested in February 2020, she didn't reveal anything about her kids. JJ and Tylee were found dead on Daybell's property in June 2020.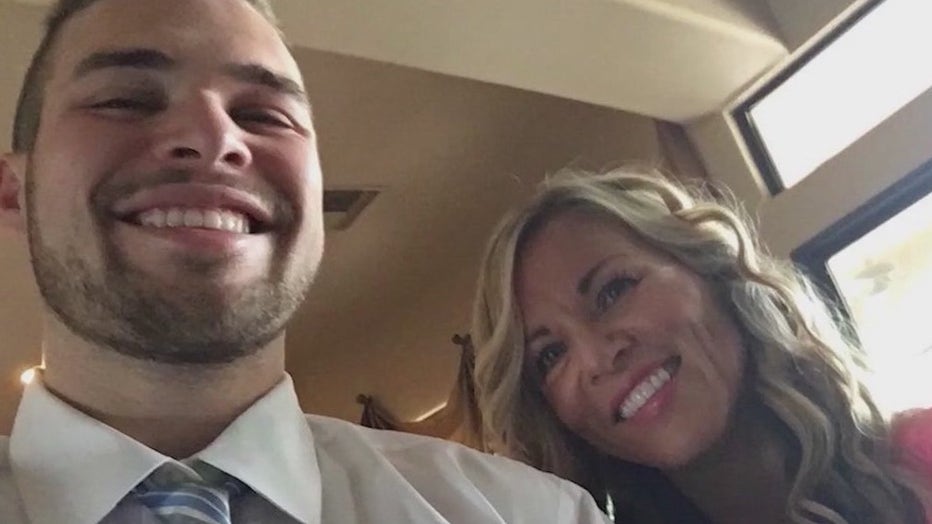 Colby Ryan and Lori Vallow, his mother
Recorded call between Colby Ryan and Vallow
Then, less than two months later, Colby and Lori spoke as she sat in jail.
It starts with Ryan asking his mom if she thought she could keep hiding from him.
"I'm not hiding, why would you think I'm hiding?" Vallow Daybell responds.
"Probably because you murdered my siblings! Maybe you should understand," Ryan continued, before his mother interrupted:
"I didn't. I'm sorry you feel that way," she said.
The call continued for several minutes, with Vallow Daybell insisting that Ryan can't know what happened because he wasn't there, but that JJ and Tylee were happy and all would become clear in the afterlife.
But Ryan said his mother lied to him multiple times while his brother and sister were missing, with someone even sending him texts from his sister's phone as if they were from Tylee.
"To know that they're gone, and you knew! And my phone is being texted by my little sister, who's not even alive!" Ryan said, his voice rising. "My poor brother, who is the sweetest little kid ever — for what purpose? You tell me this is God's will: For my whole family, including my stepfather, to be dead."
The court also heard from two more witnesses. A special agent with social security that helped investigate, detailing how Lori allegedly collected benefits on behalf of her kids months after the murders.
Prosecutors say Vallow Daybell and her fifth husband, Chad Daybell, espoused strange doomsday-focused beliefs involving demonic possession and "zombies" to further their alleged plan to kill the kids and his previous wife Tammy Daybell. They are also accused of collecting life insurance money and nearly $6,000 a month from the kids' social security and survivor benefits due to the deaths of their fathers: Tylee's father Joe Ryan died in 2018 and JJ's father Charles Vallow died in 2019.
JJ was 7 years old and Tylee was a few days shy of her 17th birthday when the kids were last seen alive in September of 2019, and their bodies were found buried in Chad Daybell's yard the following June. Tammy Daybell died in October of 2019 — just two weeks before Vallow Daybell and Chad Daybell married — and an autopsy later determined she had been asphyxiated.
Both have pleaded not guilty to murder, conspiracy and grand theft charges, and they are being tried separately. Daybell's trial is still months away.
Vallow Daybell has also been charged in Arizona in connection with the the death of her fourth husband, Charles Vallow.
He was shot and killed by Vallow Daybell's brother, Alex Cox, outside of his Phoenix-area home in July of 2019. Cox told police the shooting was in self defense, and was never charged in the case because he died of natural causes later that year. Vallow Daybell has not yet had the opportunity to enter a plea in the Arizona case.
Earlier in the trial, former friends of Vallow Daybell told jurors about the couple's purported spiritual beliefs, which included the idea that evil spirits could take over a person's body, forcing the person's soul out and turning them into a "zombie." The only way to get rid of the evil spirit was to kill the body, former friend Melanie Gibb told jurors.
Vallow Daybell called JJ and Tylee "zombies" several times before they died, Gibb told investigators.
The recorded phone call seemed to allude to some of Vallow Daybell's beliefs, with Ryan telling his mother he was praying for her and warning her against blasphemy.
In response, Vallow Daybell laughed.
"I love you, I always will. One day you will see and one day you will understand," Vallow Daybell told her son in the call, and said his dead siblings were "fine."
"They love me and they are fine ... You can go ahead and judge me all day long," she said.
Ryan cried on the stand when prosecutors showed him photos of Tylee and JJ, and told jurors about how the text messages Tylee regularly sent him changed in tone and punctuation in the weeks after she first disappeared but before she was reported missing.
He also said Tylee was receiving social security benefits from her father Joe Ryan's 2018 death and would sometimes send him money, but after Tylee went missing the funds began coming from a different account under his mother's name.
Charles Vallow's death meant that JJ was also receiving Social Security benefits, a special agent with the Social Security Administration told jurors. Vallow Daybell never reported to the Social Security Administration that younger kids were missing or had died, Mark Saari said, though federal rules required her to do so.
The kids were receiving about $3,800 a month combined, and Vallow Daybell was also receiving roughly $1,900 a month in benefits following Charles Vallow's death, Saari said.
The agency stopped all the payments in January of 2020 because the kids were missing, he said.
The Assocated Press contributed to this report.