Man injured when SUV crashes into house in Glendale
GLENDALE, Ariz. - An investigation is underway after an SUV crashed into a house Thursday morning in Glendale.
Glendale Police say the crash happened on Aug. 18 when the SUV hit a parked car before slamming into the vacant house near 59th and Myrtle Avenues.
"Heard a truck come down the road, bounced off my truck, hit that tree, went through the house," said Anthony Espinoza.
Anthony's truck was badly damaged, and he had a near miss himself.
"We were on the tailgate, walked across the street as he was coming by, so we passed in front of him as he was coming through," said Anthony .
A man and a woman were riding in the SUV at the time of the crash, however, it's unknown who was behind the wheel. The man was taken to a hospital for non-life-threatening injuries. The woman was not hurt.
"At 8:30 in the morning you would think most people are on their way to work or driving their kids to school -- you just don't see a lot of people driving recklessly -- and you would imagine that's the case especially if they've already hit a parked car and continue to lose control several hundred feet away and then drive off the roadway," Officer Tiffany Ngalula said.
Officials said they are getting conflicting information from the man and woman about what happened.
"The female said it was just her and her significant other. The significant other is stating there was a third person. We are trying to determine who was driving the vehicle to see if speed or impairment could be charged against that driver," said OIfficer Ngalula.
No one has been charged at this point, and an investigation is ongoing.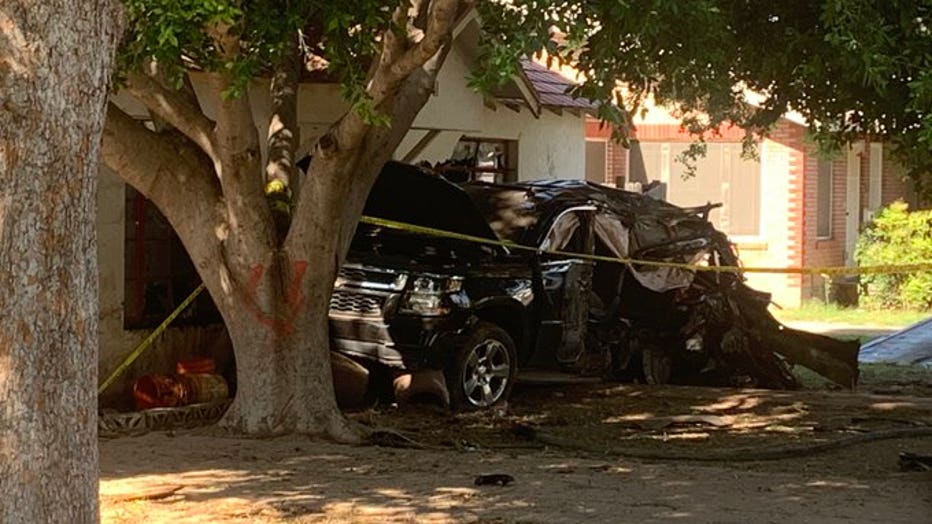 An investigation is underway after an SUV crashed into a house on the morning of Aug. 18 in Glendale. (Rick Davis)
Tune in to FOX 10 Phoenix for the latest news: