Maryland Gov. Wes Moore says he is not running for president in 2024
BETHESDA, Md. (FOX 5 DC) - Maryland's new governor Wes Moore was sworn in on Jan. 18 in Annapolis, and he's planning on staying put. 
"I am not leaving next year," Moore said on FOX 5's "DMV Zone." "The president is going to run, and I'm going to support his reelection campaign." 
Moore told FOX 5 he's "100% on the record" not going to be the Democratic candidate for president in 2024. 
"Not only am I not going to run, I'm going to support the president in his reelection," Moore said. 
Moore says in his first few weeks in office, he's seen that Maryland "is ready to serve."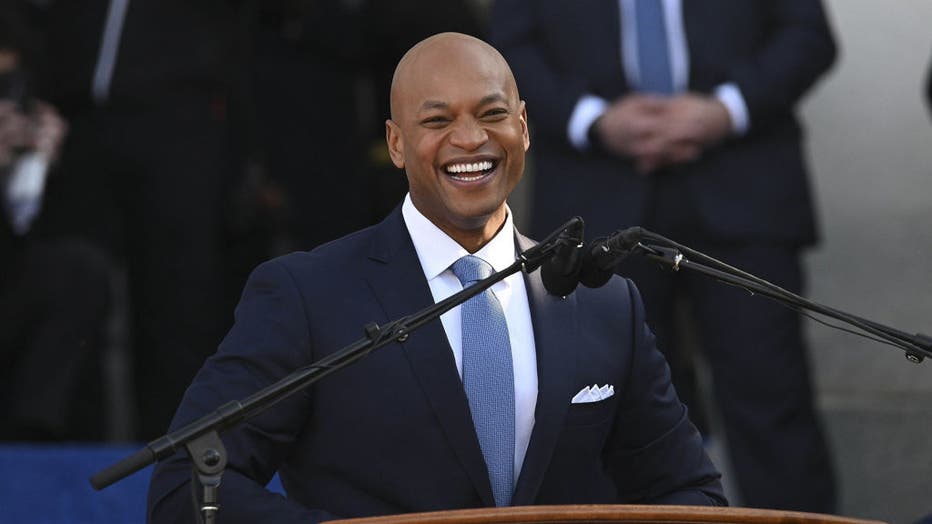 Maryland Gov.-elect Wes Moore gives a speech during his inauguration ceremony. (Kenneth K. Lam/Baltimore Sun/Tribune News Service via Getty Images)
"The beautiful thing I've been able to see is that all the big priorities that we knew were going to be priorities, whether it's focusing on public safety, or it's focusing on making sure we can have a 21st-century education system for all of our students, whether it's making sure that we can have housing," Moore told FOX 5's Marina Marraco. "But the thing that we know is there's not a single challenge that we talked about on the campaign trail, that Marylanders are not ready to step up and serve to be able to address." 
Public safety
With public safety one of Moore's top priorities, he's voiced support for legislation that would bar juveniles from being charged with felony murder. But with violent crime a top priority across the state of Maryland, Moore says what's needed is "a greater sense of partnership between state government and also the local government." 
"We've allocated an increase of $122 million in support for local police departments," Moore said. 
But when it comes to sentencing reform, Moore says once the sentencing happens "it's already too late." 
"The crime has already happened," said Moore. "The thing we also have to do and focus on, where you get the real levels of deterrence, is do we have people who are actually capturing repeat violent offenders? And then do we have the prosecutors that are actually prosecuting?"
Education
As the issue of education and parents' choice continues to be at the forefront of political conversations in neighboring Virginia, Moore says that "parents need to have a say" when it comes to their children's education. 
"We put together a record funding of $8.8 billion that we're putting towards K-12 education, a half a billion dollars more towards a blueprint for Maryland's future, which is a groundbreaking education piece of legislation," Moore said. "We need to make sure there's accountability for that capital. It's not just about putting more money into a system if the system is not working." 
Moore says that means moving in partnership with local jurisdictions. 
"So much of the authority of what happens to our students, it's actually local. So as a state partner, we can provide resources we can provide support, but it means we have to move in partnership," Moore said. "There is going to be accountability when it comes to making sure that all of our children can receive a world-class education." 
READ MORE: Va. Gov. Youngkin discusses school merit controversy, abortion, behavioral health resources
FBI Headquarters
The FBI is looking to move its headquarters out of D.C. – and they're looking at locations in Virginia and in Maryland. 
"There's no greater priority that we have for our administration than making sure that we can get the FBI to come here," Moore said. 
Moore said the most important factors in the decision, including access to transportation, costs, and proximity to other FBI facilities, all point to Maryland. 
"If you look at the guidelines that the federal government has laid out, there is no reason why these buildings should not be coming to Maryland," Moore said. "This is going to mean 7,000 jobs. This is a billion-dollar enterprise." 
READ MORE: Virginia lawmakers make push for new FBI headquarters in Springfield
FedEx Field
The Washington Commanders are contracted to play at FedEx Field in Landover, MD until 2026. After that, the team could move out of the state. 
But Moore, a Baltimore Ravens fan himself, said he "wants the Commanders here." 
"You're not going to find a more loyal fan base. You're not going to find a better sports environment. And you're not going to find more energy and excitement about a state than what you're going to find in Maryland," Moore said. 
Watch the full interview below: