Megan Rapinoe on missed penalty: 'That's like a sick joke'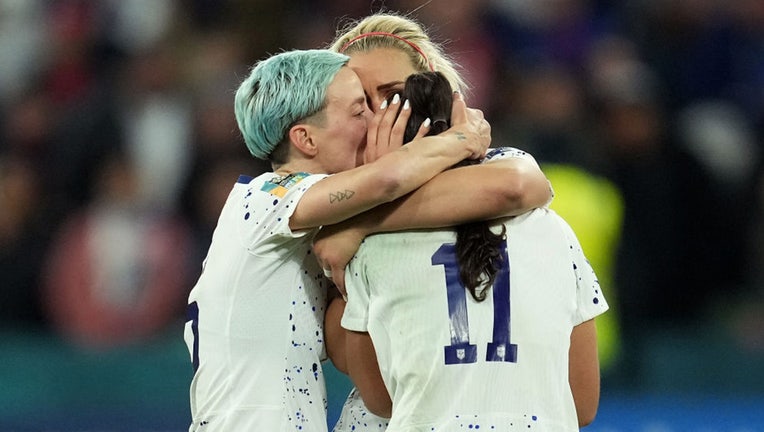 article
The irony wasn't lost on Megan Rapinoe.
For so many years, the United States women's national team star had been the squad's dedicated penalty-kick taker, the player trusted to keep calm and execute in one of the most pressure-packed situations in sports.
Shooters are supposed to score from 12 yards out. The conversion rate is around 80 percent. But with a game on the line, inside a packed stadium with millions more watching from their living rooms, it takes nerves of steel to step up to the spot, face a goalkeeper who has studied your tendencies and make good on the expectation of success.
Throughout her long and glittering career, Rapinoe was as unflappable in that moment as they come. So, it felt almost automatic that the 38-year-old would bury her attempt in Sunday's shootout loss to Sweden that bounced the USWNT from the 2023 Women's World Cup in the round of 16 — the first time the Americans have failed to reach at least the semifinals of soccer's premier event.
But with the chance to put her side on the brink of advancing to the quarterfinals, Rapinoe skied her effort high over Zecira Musovic's crossbar. It was hard to believe for anyone who knows her history – not least Rapinoe herself. It was also laughably cruel.
"That's like a sick joke," said Rapinoe, who announced before the tournament that this World Cup would be her last. "That's why I had that smile on my face. I'm like, 'You've got be f—ing kidding me.' I'm going to miss a penalty? I mean, honestly, I can't remember the last time I missed."
The last time — the only time in a career that has spanned the better part of two decades — came almost five years ago, in an NWSL match. The keeper that saved it was her current teammate, U.S. backup Aubrey Kingsbury.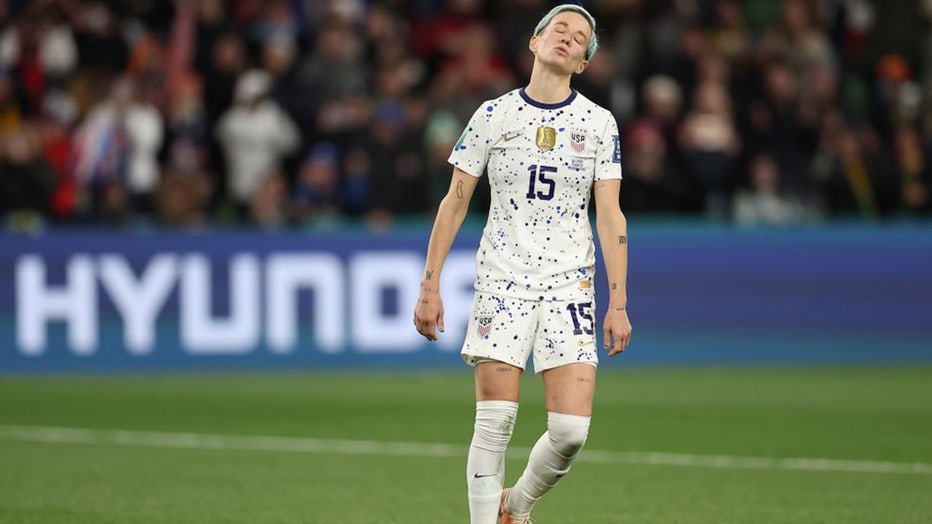 FILE - Megan Rapinoe of the United States fails to score a kick during the penalty shoot-out of the round of 16 match between Sweden and the United States at the 2023 FIFA Women's World Cup in Melbourne, Australia, Aug. 6, 2023.  (Ding Xu/Xinhua via Getty Images)
Before and since then, Rapinoe had always been ice-cold. 
She scored from the spot three times four years ago in France en route to the Americans' second straight World Cup crown, including the game-winner in the finale against the Netherlands. But from a sheer statistical perspective, her luck was bound to run out at some point. 
Unfortunately for her and her team, that point came at the worst moment possible.
"That's the way it goes," she said. "I've definitely thought about [missing] before. That's always a possibility when you step up there. But I thought I was going to make it. I thought everyone was gonna make it. I would step up and take another one right now."
Alas, she won't get that chance. But it doesn't take away from all that Rapinoe has accomplished for the USWNT and women's sports at large.
Rapinoe is one of the greatest players the women's game has ever seen. 
Over four World Cups, she made three finals and hoisted the trophy twice. She's an Olympic gold medalist. In 2019, she was the Golden Ball winner as World Cup MVP, the Golden Boot winner as its top scorer, and capped both of those honors with the Ballon d'Or at years end.
Off the field, she might have had an even greater impact, both in raising the profile of the women's game and successfully fighting for equal pay.
She's also a revered figure inside the U.S. locker room, someone her teammates have always looked up to. Several of them became emotional talking about Rapinoe following Sunday's match.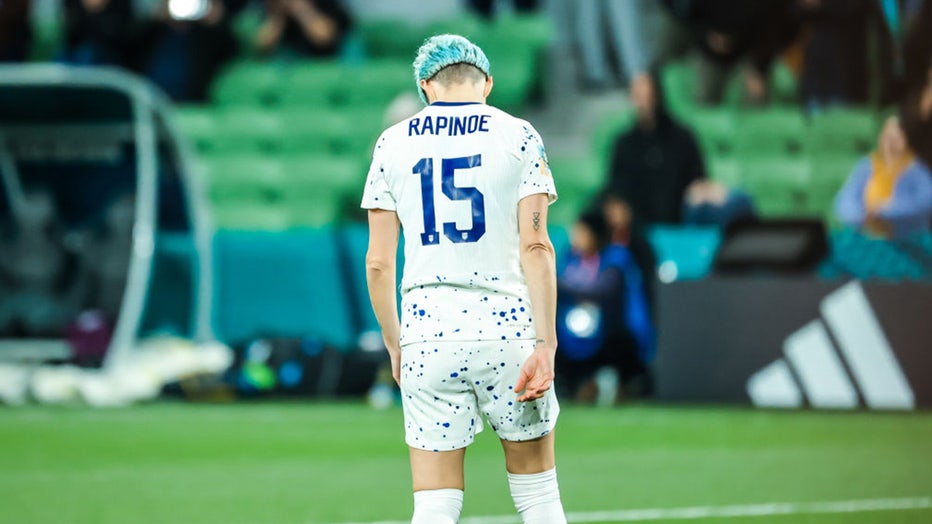 FILE - Megan Rapinoe of USA misses her penalty in the shootout as Sweden plays USA at the FIFA Women's World Cup Australia & New Zealand 2023 at Melbourne Rectangular Stadium on August 06, 2023.  (Chris Putnam/Future Publishing via Getty Images)
"I don't think there's enough words to talk about Megan and her impact on this sport," U.S. forward Lynn Williams said. "From equality to human rights, the list goes on and on. So that's going sting a little bit, to not to see her on this team and wearing the crest anymore."
Co-captain Lindsey Horan choked back tears when asked what she told Rapinoe after her penalty miss.
"Just that I love her," she said. "'That sucks' — I think that's all we said to each other."
Alex Morgan, the USWNT's other captain, said she thanked Rapinoe for everything she has done though the years. 
Rapinoe isn't completely finished  just yet. She won't hang up her boots for the final time until the OL Reign's NWSL season ends this fall. There will also be at least one more international match for her; last month, FOX Sports reported that U.S. Soccer will give Rapinoe a proper send off during one of the USWNT's friendlies this fall — an honor that has been bestowed on only a few of the program's all-time greats.
While her plans after that aren't clear, she seems unlikely to recede from the public eye completely. 
"I can't wait to see what she's gonna do in her next life, her next career," Williams said. "I can only imagine what she's going to do now that she has all the time in the world."
One thing is for sure: Sunday's miss will be a mere footnote on her résumé.
"It doesn't take away anything about this experience or my career in general," she said. "Obviously, there's the immediate disappointment of being out of the tournament, but I think just in general, I'm OK. I'm ready in a lot of ways to go, to be done, and I feel at peace with that.
"You want to win everything all the time, and that's the goal," she added. "But I feel really proud of this team and all the players that I've played with. I've loved every bit of my career, and I'll miss it to death. But it also feels like the right time."
If not the right way.
Doug McIntyre is a soccer writer for FOX Sports. Before joining FOX Sports in 2021, he was a staff writer with ESPN and Yahoo Sports and he has covered United States men's and women's national teams at multiple FIFA World Cups. Follow him on Twitter @ByDougMcIntyre.