Paradise Valley father with ALS raises money for families fighting the same disease
PARADISE VALLEY, Ariz. - An Arizona father of two diagnosed with ALS is refusing to give up, and he's now fighting for others battling the disease without financial resources.
This is a reality Eric Weinbrenner couldn't have imagined in just a few years.
"I was diagnosed the day before Thanksgiving 2019," Weinbrenner said. "I broke down crying in the parking lot."
He's a father of a 4-year-old and 2-year-old, and he went from an active lifestyle to confined by a wheelchair in his Paradise Valley home. But as he faced this reality, he also saw hope.
"Once I was diagnosed with ALS I decided not to feel sorry for myself and do nothing about it," he said. "What I could do is turn a negative situation into a positive one."
Weinbrenner started Paint For A Cure as an artist turning his passion into a nonprofit for ALS awareness. 
RELATED: Wheelchair-accessible van raffled off to family battling ALS
Now, he's hosting his third annual fundraiser called Hues of Hope on April 1 at his Paradise Valley home. 
Eric says awareness is key, but it's more than that.
"I'm eager to raise money to help families that have ALS," Weinbrenner said. "This disease does not only strip away your independence, but unfortunately it's an extremely expensive disease. Families who have someone diagnosed should have to worry less about finances and more about spending quality time with loved ones, since this disease is also 100% fatal."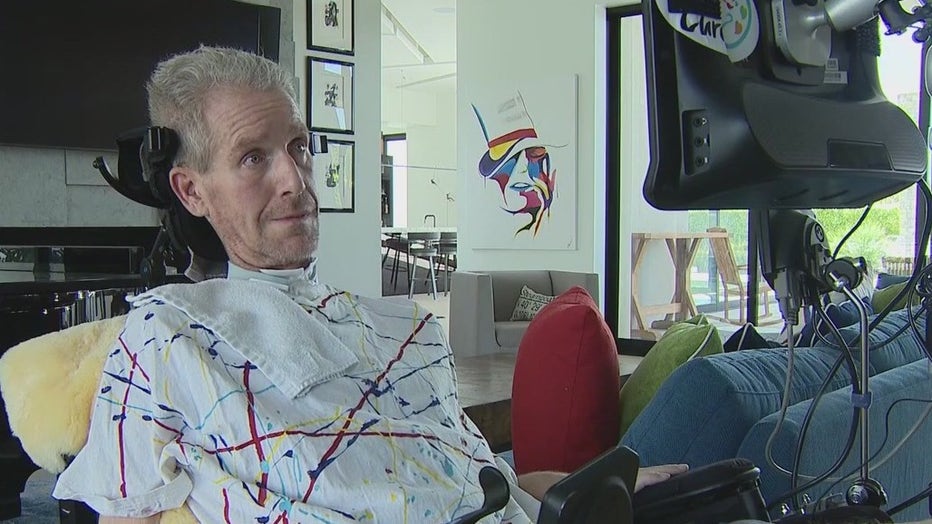 The wheelchair and devices he uses to communicate and get around can be extremely expensive, along with the cost of renovating a home to be accessible. It's a real barrier for many families facing an ALS diagnosis.
Eric is hopeful the Hues of Hope fundraiser will help families.
"It keeps me focused on more constructive things, it gives me a purpose," Weinbrenner said. "What better way to live life and to help others…and being here for my beautiful kids to help guide and mentor them through their childhood life."
More on Hues of Hope: https://paintforacure.org/product/hues-of-hope-2023/
The event takes place on April 1 starting at 5:30 p.m.