Phoenix FD: Body recovery operation underway after trench collapses, trapping two workers
PHOENIX - A body recovery operation is underway after a trench collapsed in west Phoenix, trapping two construction workers, fire officials said on July 23.
Rescue crews confirmed the workers were buried in a trench near 107th Avenue and Missouri at a planned housing site. According to Phoenix Police officials, an officer responded at around 12:00 p.m. to find the men buried in the dirt. The office tried to get the two out, but realized he couldn't help them.
"Crews are now denying entry into the area and setting up for the long process of the body recovery," stated Phoenix Fire Department Captain Rob McDade.
Fire officials say it is unknown how deep the trench wash initially, but it is not at least eight feet deep. Fire crews are reportedly using a "safe, methodical" approach to ensure they respect the bodies that they are trying to recover. It could take hours for the bodies to be recovered.
Phoenix Police officials say the two men buried were both 35 years old. Police officials say the incident definitely weighs heavily with the responding officer.
"It's one of those things that I guarantee you he'll remember," said Sgt. Mercedes Fortune with the Phoenix Police Department. "it's very sad to not be able to provide some of that help and that service to someone who needs it at that moment."
OSHA and Phoenix Police will be working together to figure out what went wrong, and what could have prevented the deadly accident.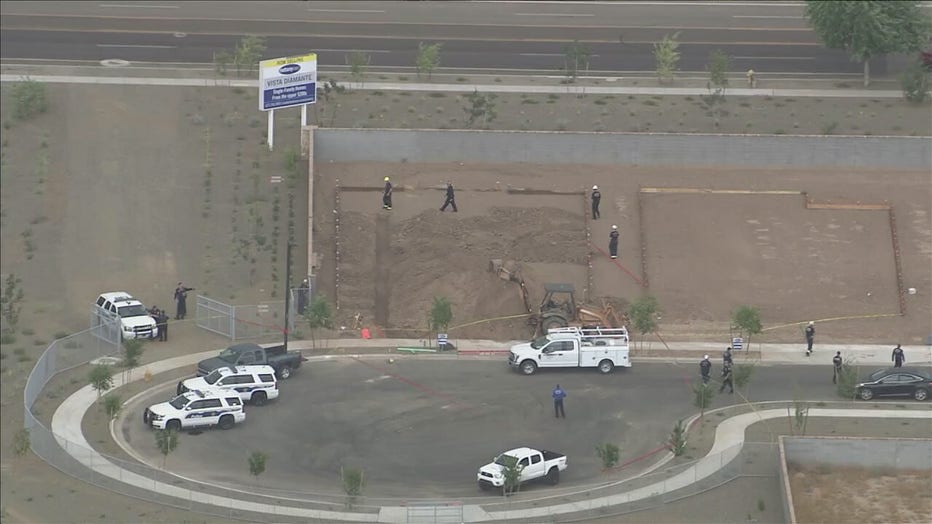 Get breaking news alerts with the FREE FOX 10 News app. Download for Apple iOS or Android.
Tune in to FOX 10 Phoenix for the latest news: