Phoenix Police: 2 arrested in connection with October 2018 murders in Downtown Phoenix
PHOENIX - Phoenix Police officials announced Wednesday afternoon the arrest of two teens in connection with the murder of two men in Downtown Phoenix in 2018.
In a statement, police identified the suspects as Castulo Cervantes, who was 14 at the time of the murders, and Antonio Palafox-Zermeno, who was 15 at the time. Both have been booked into the Maricopa County Jail and will be charged as adults.
"When you look at the gravity of the crime: two homicides, two aggravated robberies, two attempted armed robberies, and you look at the proximity of the age of the child to being an adult, again, you're dealing with individuals who were 15, 14 and they were committing adult crimes when this happened," said Sgt. Tommy Thompson with Phoenix Police.
The incident happened on October 5, when 24-year-old Zachary Walter and 41-year-old David Bessent were shot during an armed robbery along the 300 block of W. Roosevelt. The two were walking home from work when they were killed, and both were workers of Jobot Coffee.
Related: Phoenix Police search for suspect in double homicide, release photo of vehicle
Surveillance video showed a white Dodge Durango fleeing the scene. It played a key role.
"We were looking for a white Dodge Durango. There was some confusion at first, but we narrowed it down to a white Dodge Durango, and I think putting that information out to the community helped solved this crime," said Sgt. Thompson.
Both Palafox-Zermeno and Cervantes, now 15 and 16, respectively, made their first appearance in court on Wednesday, and the families of Bessent and Walter have been notified of the arrests. Both Cervantes and Palafox-Zermeno were charged with two counts each of 1st-degree murder, armed robbery, and aggravated robbery. A $1 million cash-only bond has been set for Cervantes, while a $1 million bond was set for Palafox-Zermeno.
"To find out that it was kids that did this, young teenagers, it's pretty sad.," said Tina Eaves, who has been running an alterations and creations shop for nearly 20 years. "We're a pretty new and upcoming neighborhood that everybody wants to visit, so that's not a good thing to happen."
Detectives believe there were at least two more suspects involved in the murders. Anyone with information should leave an anonymous tip by calling Silent Witness at 480-WITNESS. Spanish speakers can leave an anonymous tip by calling Testigo Silencioso at 480-TESTIGO.
Si tiene alguna información sobre este caso, llame a la línea de Testigo Silencioso (480-TESTIGO, 480-837-8446).
Silent Witness
http://www.silentwitness.org/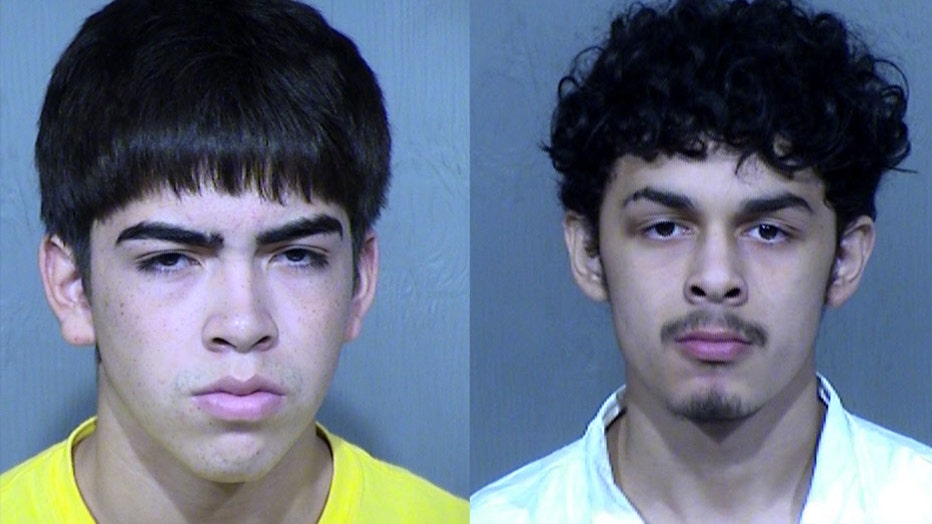 Antonio Palafox-Zermeno (left) and Castulo Cervantes (right)