President Trump to mark completion of border wall's 200th mile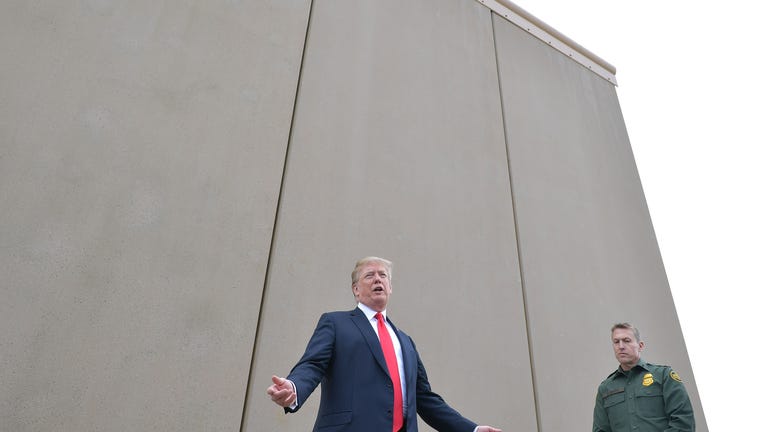 article
YUMA, Ariz. - President Donald Trump is scheduled to visit Yuma on Tuesday to mark the completion of the 200th mile of the border wall system between the U.S. and Mexico.
White House officials told the Yuma Sun that the president will receive a briefing on the border wall construction, then participate in a roundtable discussion with local community and elected leaders on border security.
After the roundtable, Trump will tour the border wall and thank U.S. Border Patrol and law enforcement for their efforts and then fly to Phoenix to speak at a Students for Trump convention at Dream City Church.
Phoenix Mayor Kate Gallego released the following statement on Trump's visit to the Valley:
"Tomorrow, the President will be hosting a campaign rally at a private church in North Phoenix. The event was not sanctioned or permitted by the City of Phoenix, as the city does not permit political events. Furthermore, it does not abide by current CDC guidelines during COVID-19. 
While I do not believe an event of this magnitude can be held safely, particularly as Arizona sees rising COVID cases, the President has decided to continue with this rally.  
City officials have contacted both the church and presidential campaign staff to alert them to the city's masking policy. The goal of this policy is not to hand out citations but to educate the public on the virus and its transmission. That is why we have started a robust public outreach campaign focused on education. The city has not changed this enforcement policy for tomorrow's event.  The church has indicated that they will be handing out masks to eventgoers and taking temperatures upon check-in.
We've seen tremendous compliance with the mask ordinance that went into effect this weekend. Everyone attending tomorrow's event, particularly any elected official, should set an example to residents by wearing a mask. This includes the President. 
Public health is a group effort, not a partisan issue. It requires the participation of every resident and level of government."
 
Expected to join Trump in Yuma are Acting Department of Homeland Security Secretary Chad Wolf, Acting Deputy DHS Secretary Ken Cuccinelli, and Customs and Border Protection Acting Commissioner Mark Morgan.
Trump's last appearance in Yuma was in 2017 when he visited with U.S. Marines and Customs and Border Protection agents.