Rudy Giuliani heads to Georgia to turn himself in: 'I'm a big boy, I can take it'
NEW YORK - Former New York City Mayor Rudy Giuliani was seen Wednesday morning leaving his Upper East Side apartment, headed south to face a criminal indictment.
Giuliani stopped to talk to the cameras, but noted he had a flight to catch.
"I gotta minute and that's it. I gotta make an airplane," Giuliani said as he walked out.
The man, once known as "America's Mayor" for guiding and comforting New York and the country through the shock and heartbreak of 9/11, has to defend himself in a court of law. But Giuliani said he isn't worried. 
"I'm going to Georgia, and I'm feeling very, very, good about it because I feel like I'm defending the rights of all Americans as I did so many times as a United States Attorney," he said.
"People like to say I'm different – I'm the same Rudy Giuliani that took down the Mafia, that made New York City the safest city in America, reduced crime more than any mayor in the history of any city anywhere, and I'm fighting for justice," he explained.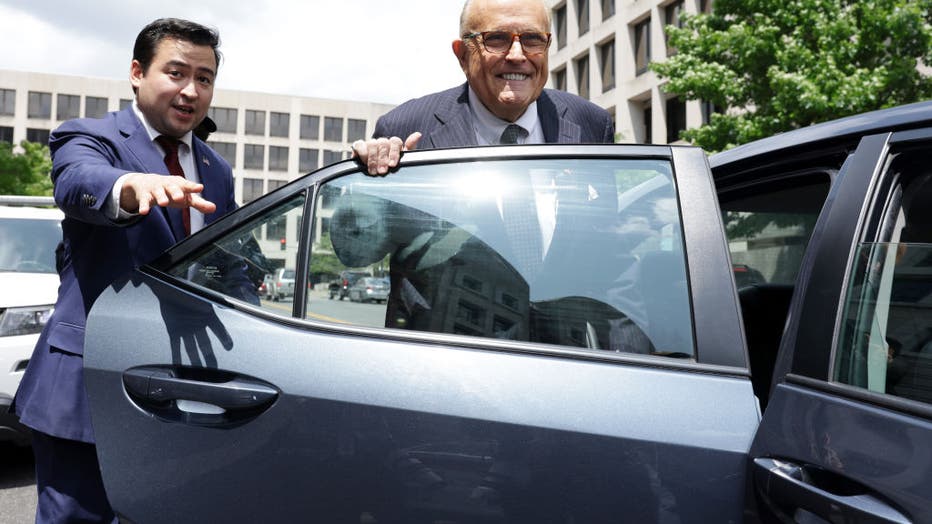 Giuliani leaves the U.S. District Court in Washington, DC. (Photo by Alex Wong/Getty Images)
The 98-page indictment alleges the 19 defendants, including Donald Trump and Giuliani, conspired to unlawfully change the outcome of the election and overturn Georgia's 2020 election results.   
Trump remains defiant, posting on social media that on Monday he will release a "large, complex, detailed, but, irrefutable report on the presidential election fraud which took place in Georgia."  
After receiving a consent bond order from a Fulton County judge, the former president will surrender at the Fulton County Jail on Thursday. He announced his intention to turn himself in via his social platform, Truth Social.
While Trump did not mention what time he would be arriving to the Fulton County Jail, he posted on Wednesday morning that he "will proudly be arrested tomorrow afternoon."
Rudy Giuliani also offered a warning to reporters on his way out saying, "whether you dislike or you like Donald Trump, let me give you a warning: They're gonna come for you."