Sober living fraud investigation, gunfight at Westgate, massive pallet fire: this week's top stories
PHOENIX - Our top stories this week include a sober living fraud investigation, gunfight at Westgate, over 100 firefighters at the scene of a massive pallet fire, and a plane crash near the Superstition Mountains + a Tempe police officer representing Arizona in the Miss USA pageant, and a shark pillow drug deal at Arizona Mills mall.
Here are the top stories from FOX 10 Phoenix between June 4 - 10:
1. 'It's a crisis': New Mexicans return from Arizona with trauma as trust is broken by sober living fraud
2. Gunfight breaks out at Westgate Entertainment District, Glendale PD says
3. From a badge to a crown: Meet Tempe PD's officer representing Arizona in Miss USA
4. Man shoots, kills wife in front of her adult son at their Mesa home, PD says
5. PD: Woman killed, her friends hurt in Glendale domestic violence-related shooting
6. Crews battle pallet fire in Phoenix
7. Little Caesars employee shot and killed coworker, Glendale police say
8. Young child struck by Phoenix Police cruiser, department calls incident 'heartbreaking' and 'tragic'
9. Shark pillow drug deal at Arizona Mills: Man sentenced to 70 months in prison
10. Plane crashes near Superstition Mountains, Pinal County officials say
A single-engine plane crashed in the Superstition Mountains on Saturday, killing two people, according to the National Transportation Safety Board. Authorities say the plane had taken off from Falcon Field Airport before crashing near Apache Junction at around 8 a.m. Click here for the latest.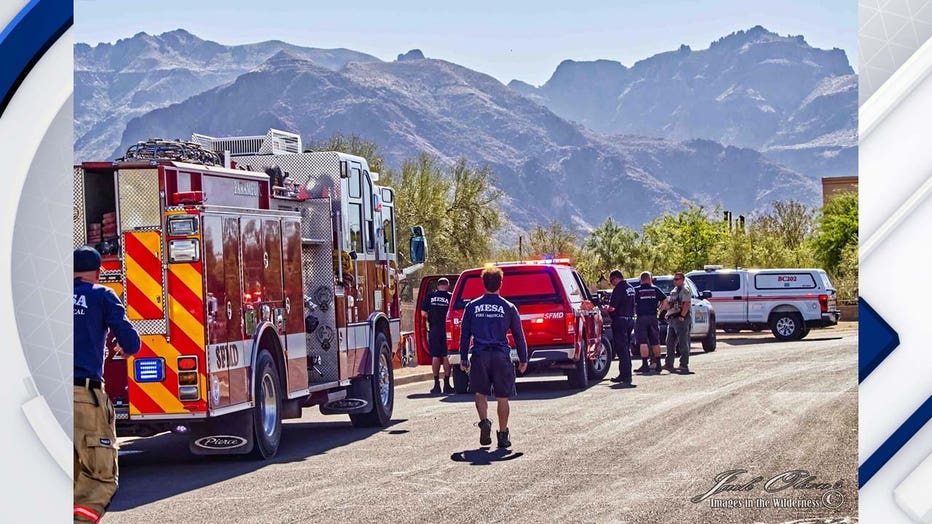 A recovery effort is underway after a plane crash in the Superstition Mountains. (Courtesy: Jack Olson / Images in the Wilderness)