Tests on orange liquid, soil in northern Arizona show no imminent threat to public health, ADEQ officials say
WALKER, Ariz. - Officials with the Arizona Department of Environmental Quality say there is no imminent threat to public health after they asked people to stay away from orange-colored soil and liquid in a portion of northern Arizona.
The orange soil and liquid, according to a statement, was found near E. Eagle Road and E. New Strike Lane in Walker, a town about 12 miles south of Prescott. The area is near Sheldon Mine.
Investigators concluded that the orange liquid is from naturally occurring iron, which happens as iron is exposed to air and forms iron oxide, which is red or orange in color.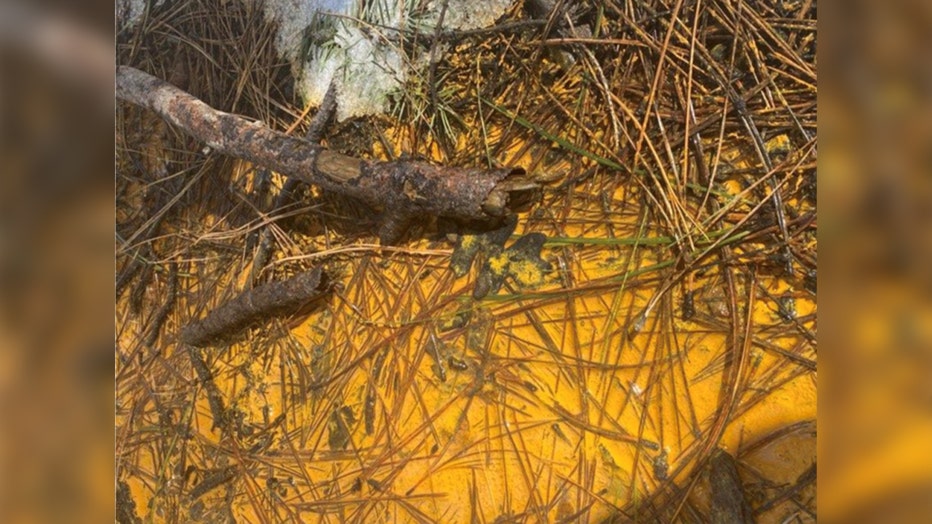 A photo showing orange soil and liquid found in the area of Walker, Arizona (Courtesy: Arizona Department of Environmental Quality)
The testing was done after a concerned resident reported discoloration in soil in the area.
"Within 24 hours of receiving information from a resident about concerns related to the orange liquid and soil, ADEQ had an inspector on-site to investigate," officials said in a news release. "Once we confirmed the orange liquid, we immediately coordinated with our local, county and state partners and worked with Yavapai County Emergency Management to post signs to inform the public to avoid the area, while we made arrangements to conduct environmental sampling."
The Associated Press contributed to this report.
Area where the orange soil and water were found: