'The Phoenix' mural in Sky Harbor finds new home following airport renovations
PHOENIX - As work continues on a new sky train station at Phoenix's Sky Harbor International Airport, a beloved piece of artwork is getting a new home.
"The Phoenix" mural was saved when terminal 2 was demolished in February 2020 and on Friday, Oct. 22, it was unveiled at the rental car center.
It's a 75-foot-wide mural that was created by artist Paul Coze and has greeted travelers arriving in Arizona for more than 50 years.
"It's not easy to do, to move a treasure of Phoenix in the midst of airport operations at such a top airport," said Phoenix Mayor Kate Gallego.
The mural is meant to represent the past, present and future of Arizona.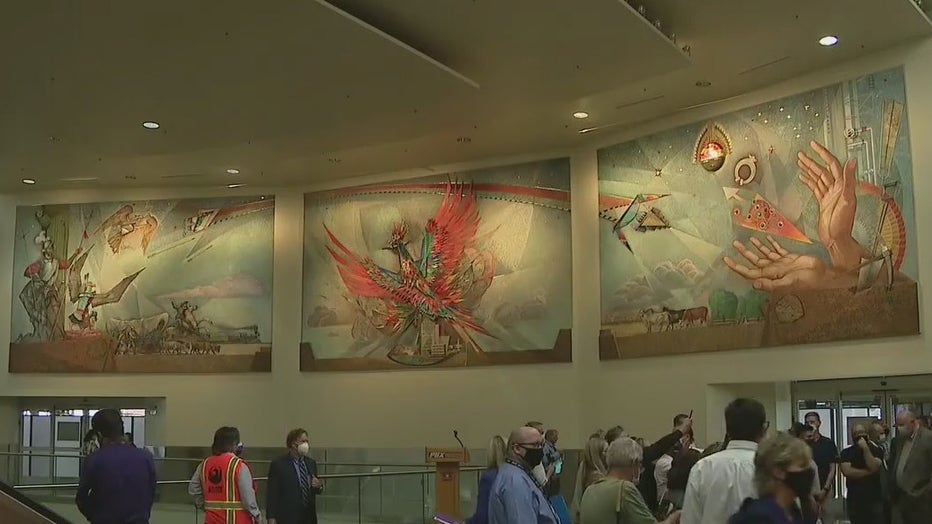 "This is the first time that we decided to use public funds to create an art piece," said Vice Mayor Carlos Garcia. "This art piece in itself tells a whole story. It tells a story of where we are standing today."
In the art piece, there are depictions of indigenous people with soil and sand from multiple tribes across the state.
"From railroads and cattle to mining and technology from the importance of sun to water and agriculture," Gallego said. "Just as it did in 1960, the mural represents our community."
City leaders say they're excited to look to the future – together.
"Make sure that we take care of those that are making this progress possible, which are the workers. So thank you so much," Garcia said.
Learn more about the mural here.
Related Stories:
Tune in to FOX 10 Phoenix for the latest news: