Arraignment set for Trump, co-defendants in Georgia election interference case
FULTON COUNTY, Ga. - The date has been set for next step in Fulton County's court case against former President Donald Trump and his allies on charges they illegally tried to overturn Georgia's 2020 presidential election.
Monday, the docket for the Fulton County Superior Court updated to show Trump would have an arraignment at the courthouse on the morning of Sept. 6.
At this hearing, Trump and his lawyers are expected to hear his charges and will be able to enter a plea.
"What's important about an arraignment is that triggers the rest of the case," said Tom Church, a trial attorney who is not connected to the case. "At that point, the DA has to turn over discovery which is all the evidence they supposedly have against you and you get to file your motions."
Donald J. Trump (Fulton County Sheriff's Office)
TRUMP INDICTMENT: WHAT HAPPENS NOW THAT ALL THE DEFENDANTS HAVE SURRENDERED? 
The former president can choose to waive his appearance at the arrangement if Judge Scott McAfee, the judge assigned to the case, allows them to do so.
Trump surrendered at the Fulton County Jail Thursday night and was quickly released on bond. Unrepentant but subdued after the brief jail visit, he again insisted that he "did nothing wrong" and called the case accusing him of subverting election results a "travesty of justice."
"If you challenge an election, you should be able to challenge an election," he told reporters on the airport tarmac.
All 19 of the defendants in Fulton County District Attorney Fani Willis' case against Trump and his allies turned themselves in by Willis' deadline of Friday at noon. All but one, Harrison William Prescott Floyd, have been released on bond. Floyd is also facing federal charges that he assaulted an FBI agent in Maryland.
SIDNEY POWELL SECOND CO-DEFENDANT TO DEMAND SPEEDY TRIAL IN GEORGIA ELECTION INTERFERENCE CASE  
Following Trump on the docket are an arraignment for former New York mayor, attorney, and Trump confidant Rudy Giuliani as well as hearings for the other defendants.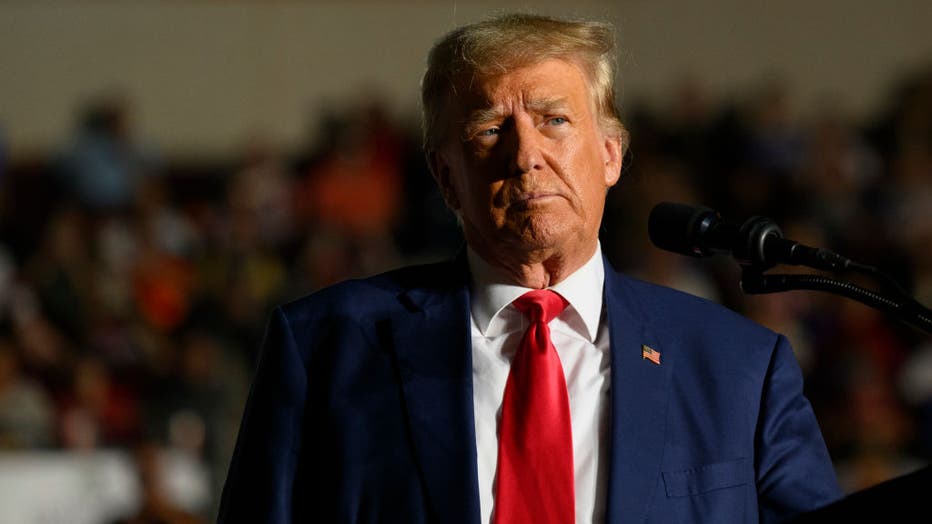 ERIE, PENNSYLVANIA - JULY 29: Former U.S. President Donald Trump speaks to supporters during a political rally while campaigning for the GOP nomination in the 2024 election at Erie Insurance Arena on July 29, 2023 in Erie, Pennsylvania. (Photo by Jef
At least five of the defendants - former White House chief of staff Mark Meadows, U.S. Department of Justice official Jeffrey Clark, former Georgia Republican Party chair David Shafer, Georgia state Sen. Shawn Still and former Coffee County GOP chair Cathy Latham - are seeking to move their cases to federal court. Meadows, Willis, and lawyers are in court Monday arguing in front of a federal judge over whether his proceedings should be halted at the state level.