Braves mascot gets best of Padres' Manny Machado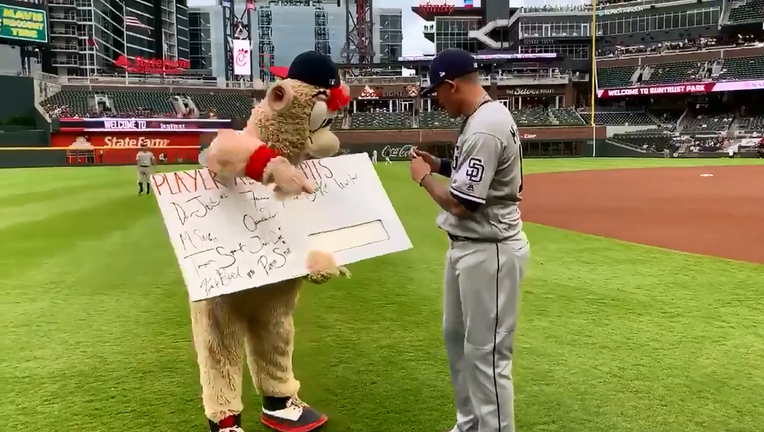 article
ATLANTA (FOX 5 Atlanta) - The Atlanta Braves may have tied their four-game series against the San Diego Padres at SunTrust Park in Atlanta, but the Braves mascot might have been a big winner this week.
App users: View full article here
Blooper is in his second season as the official mascot of the Atlanta Braves, but he seems to be catching onto things quickly.
The lovable trickster of a mascot approached Padres third baseman Manny Machado for an autograph Wednesday before the game but somehow ended up walking away with a signed check from Machado for $300 million. That, of course, is how much the Padres signed Machado for recently, making his contract the world's fifth-largest in professional sports.
Blooper posted the video to his Facebook page with the title "I love you $300 million, Manny. 🤑 #bloops," which might be a reference to a recurring line from the recent movie "Avengers: Endgame."
A tweet from the Padres' Twitter account read: "Oh, Manny. What did you just do?!"
Blooper had a lot of fun with Machado on Wednesday after the check signing. They posed for various pictures with him being fanned by the four-time All-Star while sitting in a chair and, in general, hauling the oversized check around the ballpark.
"Million dollar seats...nbd," the post read.
The two-time Gold Glove winner was able to take the check back at one point, with the Padres tweeting "Taken back! 😎 That better teach Blooper not to mess with us!"
But somehow Blooper was able to retrieve the check Thursday and attempted to cash it at a SunTrust ATM, of all places.
It looks like he failed, but fans on both sides certainly won with this new baseball rivalry.
The Padres head home Friday to host the Dodgers, while the Braves hit the road to Miami for a weekend series against the Marlins.