No. 3 Arizona uses a 20-point run to seal a 101-56 rout of UT-Arlington for its 5th straight win
TUCSON, Ariz. (AP) - Kylan Boswell scored 13 of his 15 points in the second half and No. 3 Arizona scored 20 straight points spanning the end of the first half and start of the second in a 101-56 rout of UT-Arlington on Sunday.
The Wildcats (5-0) had seven players score in double figures and have had five with 10 or more points in every game this season while averaging 99.6 points.
Boswell, the reigning Pac-12 Player of the Week, shot 6 for 10 from the field and 5 for 6 in the second half, including three 3-pointers. Oumar Ballo added 15 points on 7-of-8 shooting, and Caleb Love had 10 points, six rebounds and six assists. Arizona shot 52.1% overall and 57.9% in the second half.
"I'm telling you, we have eight starters," Ballo said.
Shemar Wilson led UTA (2-2) with 19 points on 8-of-12 shooting, and no teammates made more than three field goals.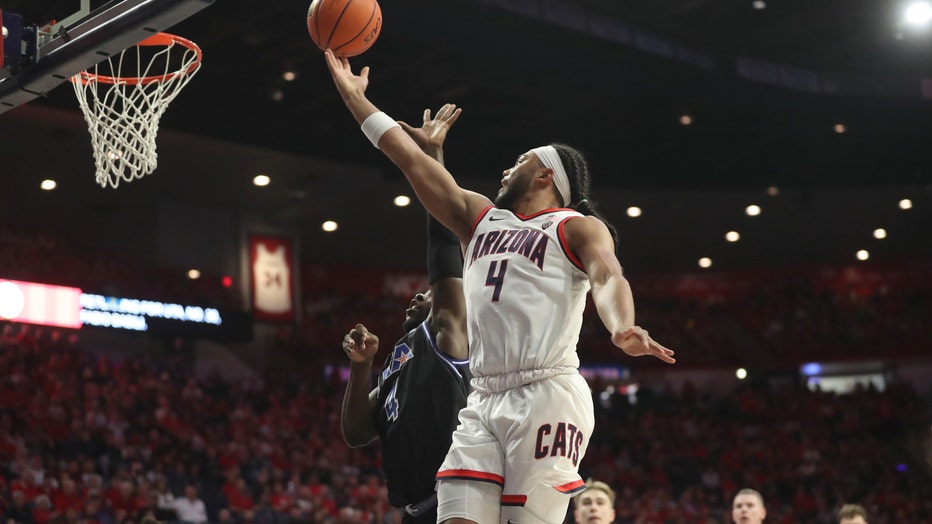 Arizona Wildcats guard Kylan Boswell #4 during the first half of a mens basketball game between the UT Arlington Mavericks and the University of Arizona Wildcats on November 19, 2023 at McKale Center in Tucson, AZ. (Photo by Christopher Hook/Icon Spo
Arizona ended the first half on a 15-5 run, including the final six points, and then scored the first 14 points of the second half to build a 57-37 lead with 15:40 remaining. Another 13-0 run made it 70-39 with 11:11 left.
"We have a standard that probably wasn't met in the first half," Arizona coach Tommy Lloyd said. "I was kind of happy how we responded in the first half, because it wasn't coming easy, but you don't start games up 30-0."
The Mavericks made six of their first nine 3-pointers and were shooting better than 50% overall late in the first half before missing 16 of their next 17 shots, including 11 in a row from outside. They shot 36.1% for the game.
UTA built a 5-point lead midway through the first half and was up 32-28 with 4:27 remaining when Arizona went on a 9-0 run over 82 seconds to take a five-point lead. The Mavericks tied the score at 37 on a 3-pointer by Wilson with 1:26 remaining, but didn't score again until the 14:52 mark of the second half.
"I felt like we really competed and shared the ball and stuck to the gameplan for about 18 minutes in the first half," UTA coach KT Turner said. "Then I felt guys kind of went off script and started taking bad shots. They're too good a team to be taking bad shots against."
The Mavericks had to rethink their lineup after junior guard Phillip Russell was declared ineligible by the NCAA. The 5-foot-10 Russell was not given a waiver to play immediately due to being a two-time transfer, having started his career at Saint Louis in 2020-21 and then spending two seasons at Southeast Missouri State.
Up Next
UT-Arlington: Hosts Alcorn State on Wednesday.
Arizona: Faces No. 18 Michigan State in Palm Springs, California, on Thursday.