Celebrations, destruction on campus after UConn wins national championship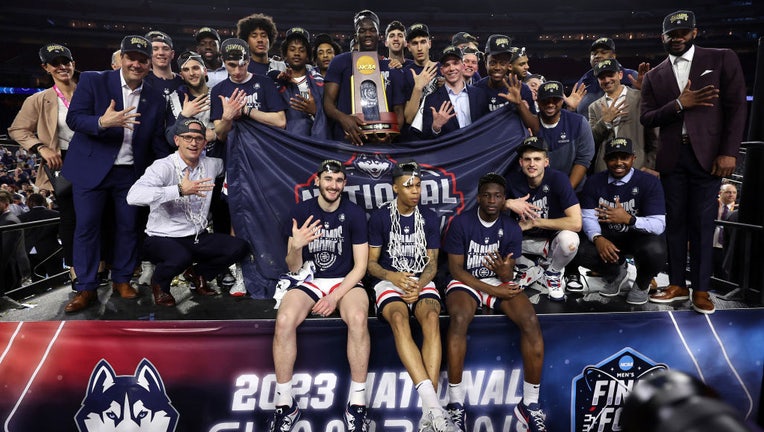 article
STORRS, Conn. - Thousands of UConn fans, most of them students, spilled onto campus after watching a broadcast of the Huskies' NCAA Tournament win over San Diego State, with some pulling down signs and light poles, smashing windows and causing other damage.
Gampel Pavilion was open Monday night for students to watch the game, which was played in Houston. UConn officials said they were still assessing the extent of the damage Tuesday morning and planned to give an update on arrests and any injuries.
Most of the partying, which lasted into early Tuesday morning, was peaceful, but social media and television video showed students taking down signs and light posts, with several using one pole to smash through the glass door of one campus building as a crowd cheered.
RELATED: UConn dominates San Diego State in national championship
WTIC-TV showed a van that had been overturned, with all of its windows shattered. Video from social media also showed students gathered around what appeared to be furniture and wooden pallets that had been set on fire.
The team was scheduled to return home to Storrs afternoon, with a rally planned inside Gampel, the team's home arena.
The Huskies were scheduled to arrive at Bradley International Airport about 3:30 p.m., with team buses making the about 40-mile (64-kilometer) drive to campus under police escort. The school said there will be no public access at the airport.
Gov. Ned Lamont took to Twitter shortly after the 76-59 victory to congratulate the team.
"You guys worked so hard for this and we could not be more proud," he wrote. "Now, it's time to plan a parade."