Nation's largest refinery shuts down as Harvey floods Texas; gas prices rise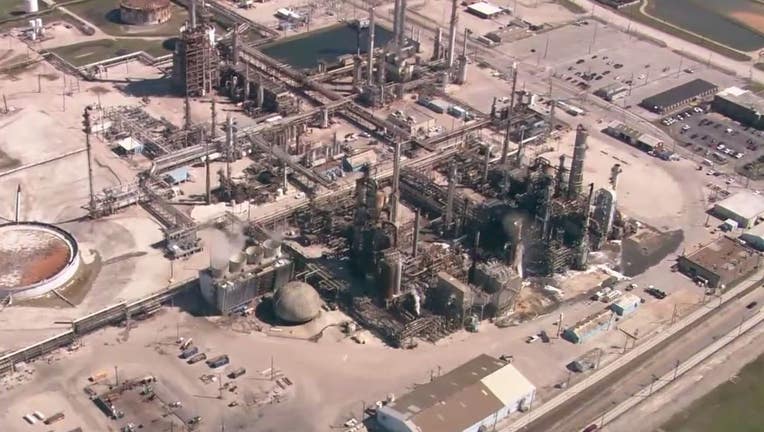 article
The largest crude oil refinery in the United States has shut down due to flooding from Tropical Storm Harvey.
Motiva Enterprises' Port Arthur plant, which has been in operation more than 100 years, stopped operating Tuesday night.
Motiva Enterprises has a crude capacity of over 600,000 barrels a day, supplying gasoline and diesel to thousands of retail outlets under the iconic Shell and 76- brands.
Energy industry intelligence service Genscape said the refinery was using its safety flare system on Tuesday night.
Flares can be a signal of the shutdown of a unit or units at a refinery.
The flaring triggered messages on social media of a fire at the refinery, but Motiva confirmed there was no fire at the plant.
A return to service is contingent upon recession of flood waters in the area.
POLLUTANTS RELEASED FROM REFINERIES
Pollutants have been released from refineries operated by Exxon, Shell and other companies as torrential rains damaged storage tanks and other industrial facilities on the Texas Coast.
Shell told state regulators this week that a floating roof over a tank at its oil refinery in Deer Park, Texas, partially sank during the heavy rainfall. The company said 100 pounds of benzene and 100 pounds of toluene were released.
A similar event happened at Exxon Mobil Corp.'s refinery in Baytown, Texas. David Gray, a spokesman for the Environmental Protection Agency, said the company reported the release of 15 pounds of benzene. The EPA classifies benzene as a carcinogen. Toluene, a solvent, is less toxic.
A Shell spokesman did not immediately respond to a request for comment.
"This is an unprecedented storm, and we have taken every effort to minimize emissions and safely shut down equipment," said Exxon spokeswoman Charlotte Huffaker. She said the Irving, Texas-based company was monitoring emission levels and was committed to complying with environmental laws.
Other refinery and chemical plant operators have reported releases due to Harvey, which came ashore as a hurricane but was later downgraded to a tropical storm.
The disclosures highlight the danger posed by flooding in a refinery-rich section of the Gulf Coast that stretches from Corpus Christi, Texas, to Louisiana.
GAS PRICES RISING
The flooding from Harvey had caused the shutdown of more about 15 percent of the nation's refining capacity before Motiva's shutdown, sending gasoline prices higher.
Gasoline futures rose 6 cents, or 4.1 percent, to $1.78 a gallon in trading Tuesday.
Retail prices have gained more slowly - up 4 cents in the last week to $2.38 a gallon, according to auto club AAA.
The Associated Press contributed to this report.