Phoenix man indicted, accused of killing 18-month-old child
PHOENIX - A 23-year-old man accused of killing a young child in Phoenix has been indicted by a grand jury for murder.
According to court documents obtained by FOX 10, Diego Miguel Garcia was arrested in the early morning hours of Feb. 2. The incident began to unfold during the late-night hours of Feb. 1, when Phoenix Fire crews responded to a 911 call at a home in the area of Central Avenue and Baseline Road for a child with visible signs of trauma.
The home, according to Phoenix Police, was that of the victim's grandmother. The child was taken to the hospital, where doctors found injuries to the head and lip, as well as bruising to the left cheek, back, and abdomen. The child eventually died on the morning of Feb. 2.
The victim's grandmother, according to investigators, said that her daughter, who was the victim's mother, ran to her house with the victim. At around 5:30 p.m. on Feb. 1, the victim's mother left her home for her part-time job and left the victim to Garcia, who was the woman's live-in boyfriend. Garcia's 5-year-old child was also at the home.
When the victim's mother returned at around 10:30 p.m., she found the victim with various injuries.
"The mother put cold water on the child's face, and the child did not respond," read a portion of the court documents. "The mother then took her child to the grandmother's house for assistance, and asked her to call 911. The grandmother saw the child before calling 911, and noticed injuries which were not present earlier when she had watched the child."
Investigators say they interviewed Garcia at the Phoenix Police headquarters during the early morning hours of Feb. 2, after he was read his Miranda rights. During the interview, Garcia gave multiple versions of what happened, and the multiple accounts were not consistent with the injuries to the victim, nor was it consistent with the scene.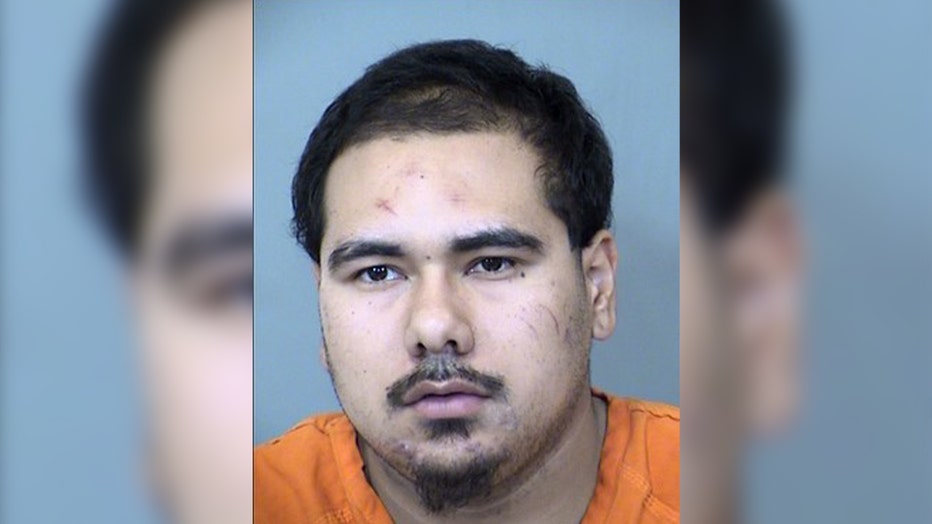 Garcia, according to police, had been in a domestic relationship with the victim's mother for about four to six weeks and had been living at the victim's home for about 30 days.
"[Garcia] had never been given permission to physically discipline the victim," read a portion of the court documents. "He had no legal parental rights to the victim, and he was not biologically related to the victim."
Garcia is accused of first-degree murder and child abuse. A judge set a cash-only appearance bond of $2 million.
Maricopa County Attorney Rachel Mitchell announced on March 3 that Garcia has been indicted by a grand jury.
"Children are some of the most vulnerable in our community and when a child dies at the hands of an adult, this office will seek justice for the tragic loss of life," said Mitchell.
(Click here for interactive map)
More Arizona headlines
Tune in to FOX 10 Phoenix for the latest news: