Massive Arizona SNAP benefit theft scheme uncovered in months-long investigation
PHOENIX - Arizona Attorney General Kris Mayes announced the result of a months-long investigation where nearly 3,000 victims lost over $1 million in stolen SNAP (Supplemental Nutrition Assistance Program) benefits.
Several agencies were involved in the investigation, including police in Gilbert and Phoenix.
"This is an ongoing problem. What you see is just a snapshot of the problems that the retail industry and our communities are facing," said Michelle Ahlmer, with the Arizona Retailers Association.
Local and state agencies seized $60,000 worth of baby formula over a six-month period.
"The reason [there is] an organized crime ring stealing baby formula was that it became a hot commodity due to manufacturing and supply chain issues. These thefts and others across the country exacerbated a horrible situation for Arizona families and for moms," said AG Mayes.
Skimming devices and equipment to make fraudulent EBT cards were also seized during over a dozen search warrants.
"They also recovered more than 1,200 cloned EBT SNAP benefit cards, with more than 400 of the cards coming from two dozen other states," said AG Mayes.
Gilbert Police Lieutenant Maria Gunter was one of the officers who served the search warrants in Phoenix and Gilbert, and said they found baby formula and fraudulent EBT cards in large quantities.
"It takes a lot of effort, obviously, but what we know they do is they put these skimming devices over the devices at the stores, and they capture the data, and then they add it on to the gift cards, and then they go on to use them," said Lt. Gunter.
"I think it is highly likely that it is still happening across the country," said AG Mayes. "One of the things that we learned is that this activity spanned multiple states."
Officials wouldn't say who specifically was involved in the investigation. We have learned that the state has submitted a plan to the USDA to begin accepting claims for SNAP benefits stolen due to skimming. That plan has yet to approved.
Update from the Arizona Department of Economic Security:
While EBT cards are not currently insured by the federal government, and lost or stolen benefits cannot be replaced, the Fiscal Year 2023 Federal Omnibus Appropriations Bill now allows states to reimburse victims of SNAP theft due to card skimming, card cloning or similar methods with certain limitations and exclusions.
Arizona submitted a plan to the USDA Food and Nutrition Service (FNS) to begin accepting claims for SNAP benefits stolen due to skimming. Upon approval and implementation of the state plan:
• States will be able to replace certain benefits stolen October 1, 2022 through September 30, 2024.
• States may reimburse each household only up to two months of benefits (or the amount stolen if lesser than) up to two times per federal fiscal year. 
Editor's note: This story was updated to include the latest information from Arizona DES about EBT cards.
 
Read More Arizona Stories
Tune in to FOX 10 Phoenix for the latest news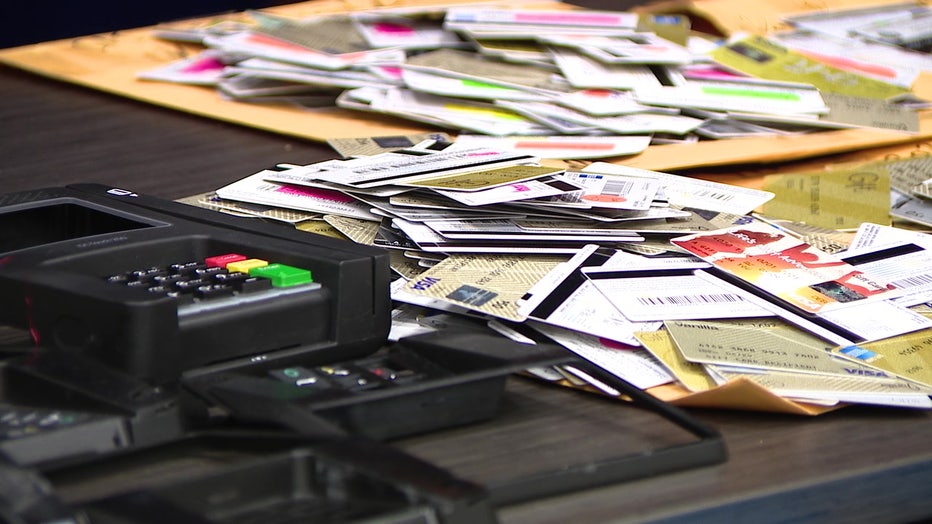 A photo showing fraudulent EBT cards and card skimmers that were displayed during a news conference over a SNAP benefit theft scheme.