EBT cards across U.S. being fraudulently used at Phoenix market, leaving victims (and store owner) asking why
PHOENIX - Taxpayer dollars are being stolen at alarming rates from the most vulnerable citizens in Arizona, and as the list of victims grows every day, one business within the state kept coming up on receipts: the Istanbul Market in Phoenix.
Inside the Istanbul Market, boxes are stacked high inside the coolers. The boxes contain pounds of shelled hazelnuts, or extra jumbo raisins. Each one costs hundreds of dollars. Besides the boxes, the market also offers other items. The business also accepts EBT cards, which is how people can spend their SNAP benefits.
"The food stamp is for people who are in need," said Hussein Hussein with the Istanbul Market.
Victims from across the country sound off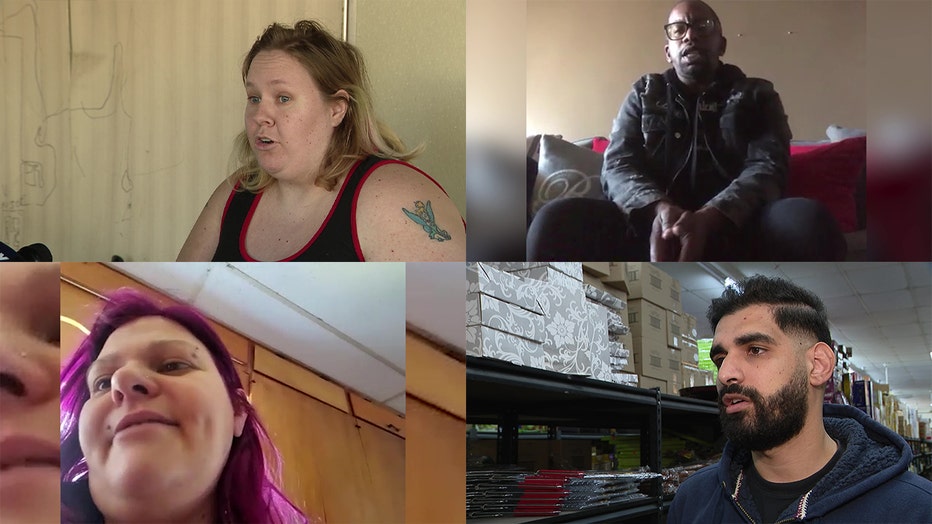 (From top left) EBT cardholders Jocelyn Houck, Justin Ward, Crystal Chavis, and Hussein Hussein with the Istanbul Market
Those in need have started complaining about Hussein's new store.
"My food stamps were all gone," said Jocelyn Houck of Phoenix.
Every dime on Houck's EBT card was stolen, $520 meant to feed her children, taken in just one transaction.
"It was hard," said Houck.
The purchase that emptied Houck's EBT card was made at Istanbul Market, a place Houck has never been.
Another victim of EBT theft is Justin Ward, who lives in Detroit, Mich., and has never been to Arizona.
"[They took] $1,360," said Ward.
Ward's EBT card was also emptied at Istanbul Market, along with the EBT card of Chrystal Chavis of Pennsylvania.
"Have you ever been to the State of Arizona?" we asked Chavis.
"No. Never. Never in my life," said Chavis.
Online reviews for the business show many other complaints from people across the country.
"People started calling us, telling us 'Hey! My card is getting used at this store. You guys scammed me,'" said Hussein.
"We're a victim here too," said the store's owner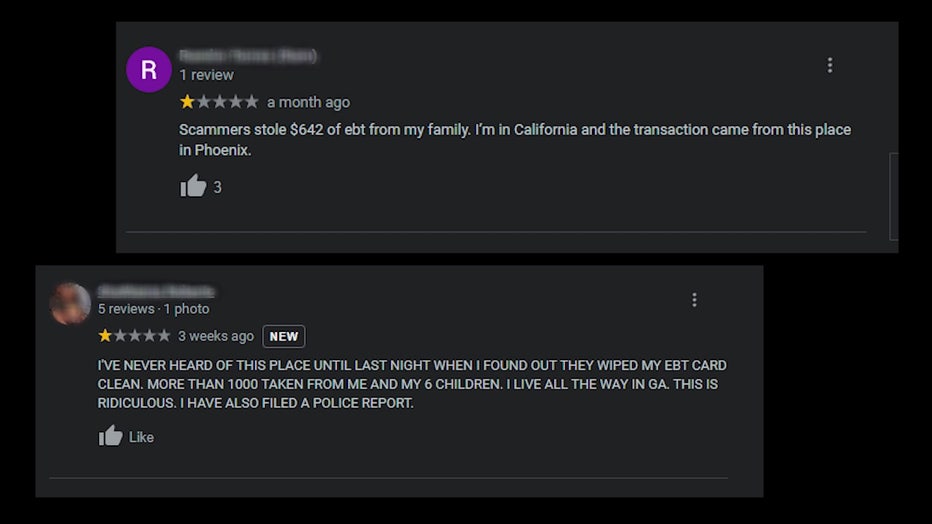 A screenshot of a number of complaints posted on the web about Istanbul Market in relation to EBT fraud. The store's owner said they had no part in the fraud schemes, and that they were targeted.
Hussein said his business isn't stealing. He said his business is being targeted by someone skimming EBT card information.
"You're saying in no way are you involved in any of this fraud?" we asked Hussein.
"No, we are not," Hussein replied. "We contacted Phoenix PD. Phoenix PD came here. We called the USDA several times to find the solution to stop this."
"You called them?" Hussein was asked.
"I called them," Hussein answered.
Authorities speak out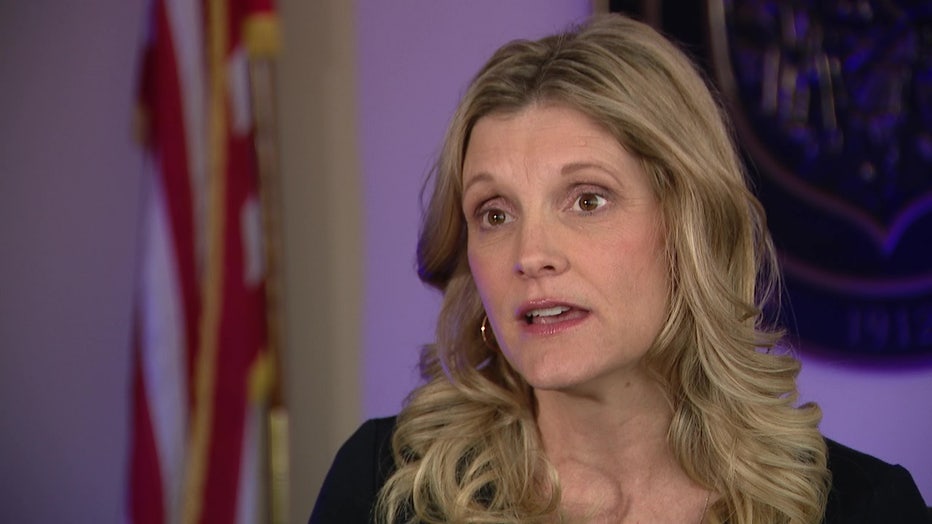 Angie Rogers, Director of the Arizona Department of Economic Security
Officials say this kind of fraud has skyrocketed.
"I think its really unfortunate. We have individuals who are attempting to steal from the most vulnerable in our communities, and I think anything we can do to prevent that is important," said Arizona Department of Economic Security Director Angie Rodgers.
Rodgers is the new director of the state agency that administers SNAP benefits. She said thieves attach skimming devices onto card readers at stores, and without anyone's knowledge, they can steal card and PIN data, and then sell the information online.
"While you or I might be able to work with our Visa card membership, Bank of America and do the investigation work through those issues, this mom is left without groceries, and certainly left without those benefits," said Rodgers.
DES officials say the increase in similar incidents of fraud has been significant. In October 2021, there were just four reports of EBT card skimming across Arizona. Four months later, it jumped to 196. It peaked in October 2022 at 236.
On Mar. 2, state officials gathered to announce a separate EBT card skimming bust involving baby formula.
Fraud leaves some asking why
Istanbul Market in Phoenix, Arizona.
As can be seen in the cases of Chavis and Ward, both of whom live outside of Arizona, skimming can happen anywhere.
"I told the cashier there's no way that my transactions [are] being declined," said Chavis, recounting the moment when she realized something was wrong. "I just got my food stamps on my card last night at midnight. The money's there."
"How did they do it? How did they get the pin code? And why specifically this store?" asked Ward.
In the case involving Istanbul Market, the receipts all have something in common: large purchases of just one item.
"They spent $372 on corn syrup. C'mon," said Chavis. "There was, like, 400 and some dollars in pumpkin seeds. Who's going to buy that much product of that stuff?"
Hussein said that is exactly why he was targeted. He said it's the large wholesale cases of nuts, seeds, and fruits that is luring card skimmers.
"We can not stop people from buying a case of pumpkin seeds," said Hussein. "We sell pumpkin seeds. We sell cases of pistachios. They cost about $600 for pastries. People use them to use pastries and walnuts as well. Well, how much is a pound, and the case is 50 pounds, multiply that, it comes to $300, $400 a case, and that why we became a target for this. So people buy them and sell somewhere else because we are basically like a wholesaler."
After getting advice from Phoenix Police, Hussein says he is checking his PIN pad every day.
"When you pull on it, if there's anything on it, it will come up, or if there's tape marks," said Hussein. "You can see there's nothing on it."
Hussein also spent $5,000 on a security camera system.
"You can see every aisle has a camera now, and we try to get to the bottom of this by at least providing video footage of the people doing this," said Hussein.
"Since you've put those in, have you gotten any more complaints about this happening?" Hussein was asked.
"No, I did not," Hussein replied, while saying he thinks the state should be doing more.
DES officials, EBT cardholders taking action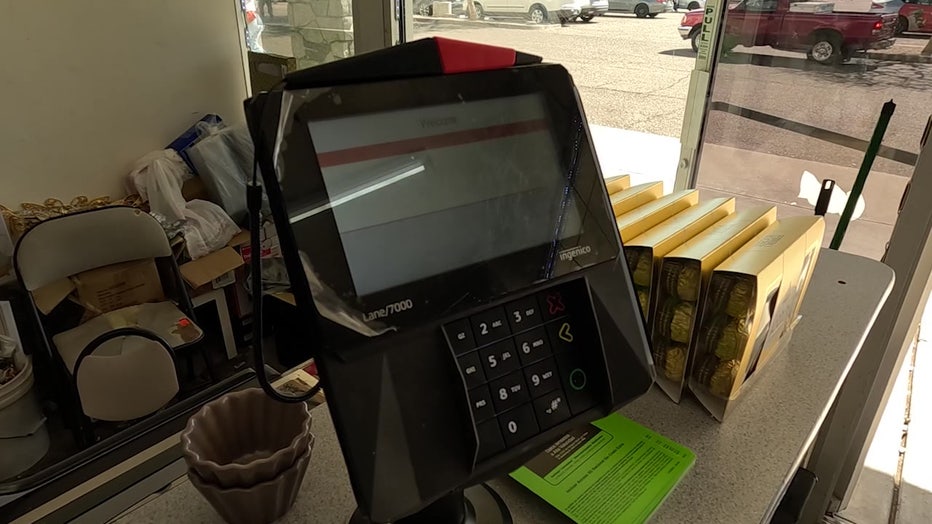 We asked Rodgers whether people are allowed to check an ID when an EBT card is used.
"Well, I think you want to think about the individuals accessing these benefits. Maybe it's a grandmother unable to get out of the house, but is able to send her grandson to get groceries, so absolutely, we have allowable household members that can use the card," said Rodgers. "You must have both the card and the PIN to access the benefits."
However, If someone gains the PIN code by skimming, there is not much to stop the theft.
Houck, meanwhile, is doing what she can. She's locking her card with a phone app, and she only unfreezes it the second she needs it.
"It's a pain in the butt, but it's better than losing money," said Houck.
DES officials say they are considering adding chips to the cards, and thanks to changes at the federal level, states are now allowed, for the first time, to reimburse EBT cards empties by fraud. 
While Houck waits for a way to apply for her reimbursement, she hopes her thief is arrested soon.
"They're scum. A bad person, and they should be caught for doing this," said Houck.
Arizona officials have submitted their plan to the federal government at the end of February for how they will reimburse SNAP benefits that have been fraudulently taken.