ADOT: Phoenix Suns' NBA title run sparks increase in specialty plate sales
PHOENIX - Officials with the Arizona Department of Transportation say the Phoenix Suns' recent run for the NBA title has sparked an increase in interest for the team's specialized license plate.
According to a statement released on July 15, figures released by ADOT's Motor Vehicle Division shows the Suns specialty license plate has generated just over $12,000 in sales for the month of June.
"That's an increase of about $3,500 from May, in which there were sales of just under $8,500," read a portion of the statement. "During the previous 10 months, sales of Suns plates averaged approximately $7,000 per month."
During a drive on July 15, we spotted a Suns fan with the specialty plate.
"I recently bought this car, maybe like two or three months ago, so right around the time i got it, I got these license plates," said Luis Romero-Cota.
Romero-Cota says at the time he bought his car, he had no idea the Suns would make it this far.
"It was a blessing that they did, but it was just a coincidence that it played out that way," said Romero-Cota. "It's just cool that Phoenix is actually finally, like, repping their team, and doing things that are revolving around the Phoenix Suns."
Officials: Interest in sports specialty plates driven by team's performance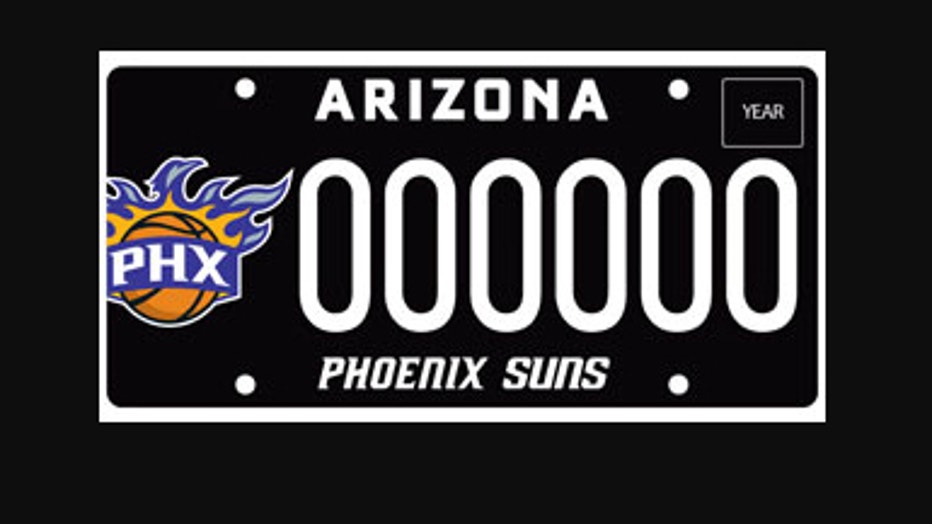 Phoenix Suns Specialty License Plate (Photro Courtesy: Arizona Department of Transportation)
Doug Nick with ADOT says people are more especially more interested in specialty plates when a team is doing well.
"A few years ago, when the Cardinals went to the NFC title game and won the playoffs consistently, there were higher sales for that team," said Nick. "So, the attention that's brought to any organization with these plates are going to result in more sales, and that's the case with the Suns."
Nick says ADOT officials are expecting big sales again for July.
ADOT officials say people who want the Suns specialty plate needs to pay a $25 initial application fee, and the plate can be renewed for $25 a year. $17 goes to the Phoenix Suns Charities. The money will be used for youth education and development, college scholarship programs, and community development.
Phoenix Suns specialty license plates
https://azdot.gov/content/phoenix-suns
Other Top Phoenix Suns Stories
Extended Phoenix Suns Coverage: https://www.fox10phoenix.com/tag/sports/nba/suns
Tune in to FOX 10 Phoenix for the latest news
For the latest local news, download the FOX 10 News app