'Invaluable' American flag recovered for Tennessee family after deadly tornado
ADAMSVILLE, Tenn. - An EF-3 tornado ripped through Adamsville, Tennessee, last week killing nine people in and around the area. Through the tragedy and destruction, the family of one of the victims was able to recover a memento that they say is irreplaceable. 
The Pinckney family lost their home on March 31, after a tornado and heavy winds swept across the property, leaving behind a trail of destruction. 
"It actually took the roof and the back wall off the house," Dustin Pinckney told FOX 13 Memphis. "They (Pinckney's parents) were in the bed, and he said he actually, in instinct, he actually grabbed my mom and he said she was actually floating off the bed."
While Pinckney's parents survived, his grandmother Billie Pinckney did not.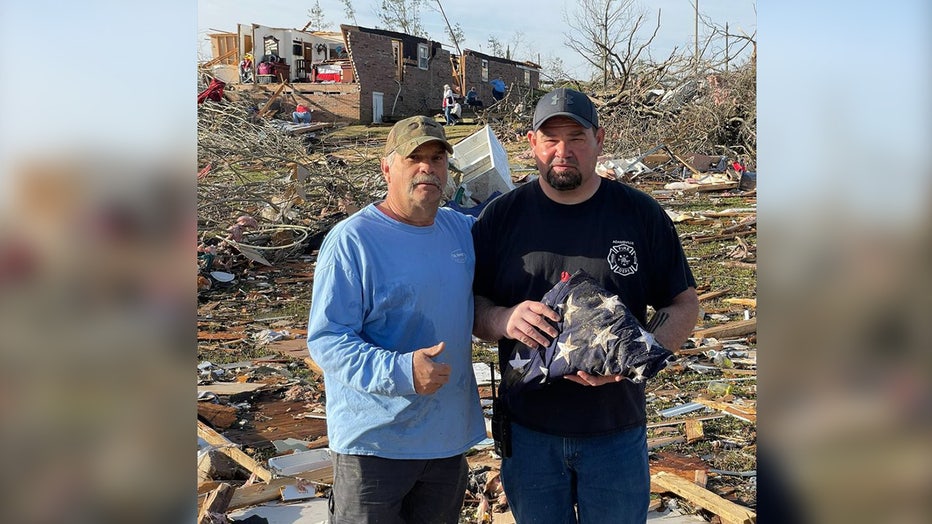 (Credit: Adamsville Fire Dept.)
Missing among the rubble was an American flag that was placed on the casket at Pinckney's grandfather's funeral. Pinckney said his grandmother wanted to be buried with it.
According to FOX 13, first responders helped the family search the rubble for hours to locate the flag.
RELATED: Deadly tornado outbreak causes catastrophic destruction in multiple states
"It was actually found very close to my grandma," Pinckney continued, adding, "It's hard to think that she was in one place, and everything else is scattered."
Adamsville Fire Chief Kenny Newell's home was also destroyed during the tornado. He told FOX 13 that his lieutenant helped the Pinckneys recover their flag.
"Mr. Pinckney was very thankful to be reunited with the American flag that he described as 'invaluable' and stated that it meant more to him than anything else that was scattered across his property," the fire department wrote on social media Sunday. 
Despite losing everything, Pinckney said his family is at peace knowing his grandmother will be reunited with her husband. 
RELATED: 5 killed, multiple injured after nocturnal tornado slices through southeastern Missouri
A GoFundMe page was created to help the Pinckney family. You can contribute here. 
This story was reported from Los Angeles. FOX 13 Memphis contributed.