Amtrak proposes new Phoenix route by the year 2035 in major expansion project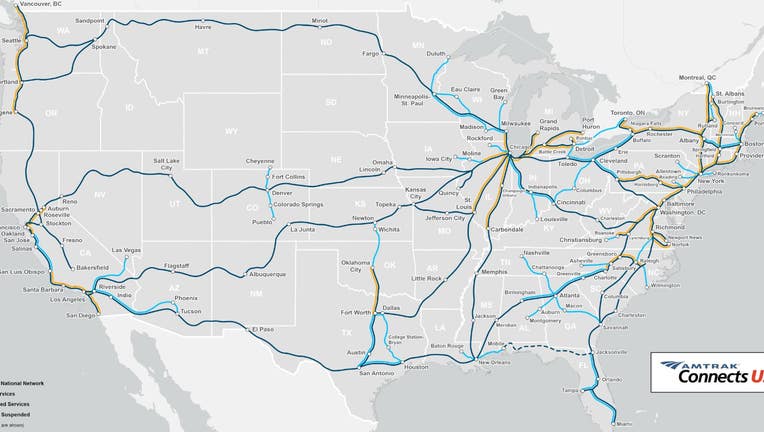 PHOENIX - Amtrak has proposed an expansion of their railroad network that could connect Phoenix with cities like Las Vegas and Indio, California by the year 2035.
A map released Wednesday to illustrate Biden's proposed expansion of Amtrak's national network shows a new route between Las Vegas and Los Angeles and restoration of the previously halted service through Phoenix on a route between Los Angeles and New Orleans.
"With a growing and diverse population, a global climate crisis and longer traffic jams, America needs a rail network that offers frequent, reliable, sustainable, and equitable train service," Amtrak said in a statement.
The railroad company ended service in Phoenix in 1996 following a derailment that killed an Amtrak employee and hurt more than 100 others.
The train was traveling from El Paso, Texas to Los Angeles when it crossed an "altered" track in Palo Verde, Arizona and careened into a ravine.
The FBI said the rail line was tampered with, and it was never fixed. Authorities are still offering a reward of up to $310,000 for information that could lead to an arrest.
Since 1996, the Amtrak station in Maricopa, about 27 miles (43 kilometers) south of Phoenix, has been the stop closet to Arizona's most populous city.
Amtrak is hoping to bring service back to Phoenix - while adding 29 other potential new routes nationwide - by 2035.
The Associated Press contributed to this report.
Continued Coverage
For the latest local news, download the FOX 10 News app.
Tune in to FOX 10 Phoenix for the latest news: