Beanie Babies releasing 'Aloha' bear to benefit victims of Hawaii wildfires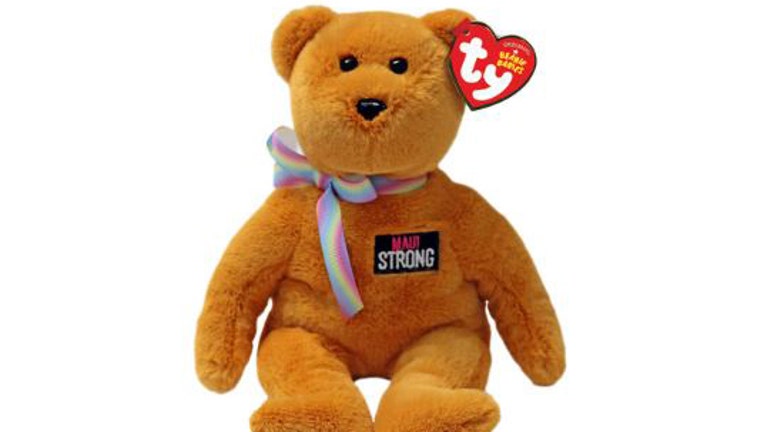 article
As the recovery efforts continue after the devastating wildfires in Maui, another company is stepping up to help the community.
The creator of Beanie Babies is releasing a new, limited-edition bear to help wildfire survivors. 
"Aloha," the cuddly gold-colored bear, has a rainbow ribbon with the words "Maui Strong" written on its chest.  
RELATED: Hope is hard to let go after Maui wildfires, as odds lessen over reuniting with still-missing loved ones
Like other Beanie Babies toys, Aloha has a birthday and poem. Its birthday is Aug. 8, symbolizing the day the Maui wildfires occurred, and features a poem that says, "Helping each other all day long, we forever will stay Maui strong."
In an Aug. 17 release, owner Ty Warner announced plans to introduce Aloha adding that all the profits from its sale will go to the American Red Cross for relief efforts. 
RELATED: Maui Humane Society overwhelmed after wildfire; how you can help
"Loss can strike at any time. The speed and savagery of the Maui wildfires are an especially horrific, heartbreaking reminder of that," Warner said in a statement.  "While I can't undo what has happened, I can try to help those who are suffering in the aftermath."
Residents are slowly trying to rebuild as some schools on Maui are reopening, and traffic is resuming in certain areas after the wildfires demolished the historic town of Lahaina, which has killed at least 114 people so far. 
The Associated Press contributed to this report. This story was reported from Washington, D.C.