Cost-of-living concerns leading 40% of Gen Z to work multiple jobs: survey
A recent survey found that 40% of Gen Z is counting on a "side hustle" outside their nine-to-five jobs to combat the cost-of-living crisis as a potential recession looms.
Whether it's babysitting, driving for a ride-share company, or selling items online, young professionals are wearing multiple hats to make ends meet. According to Side Hustle Nation, the average side hustle brings in $1,122 a month, but the median income is much lower at just $200 a month.
According to Kantar, a data and analytics company, 40% of responding Gen Z workers are combining at least two roles due to living expenses. 
A similar survey commissioned by Microsoft found that 48% of Gen Z respondents were working multiple side hustles to boost their monthly incomes.
MANY AMERICANS STILL OPTIMISTIC ABOUT HOMEBUYING DESPITE TOUGH ECONOMIC BACKDROP: TD BANK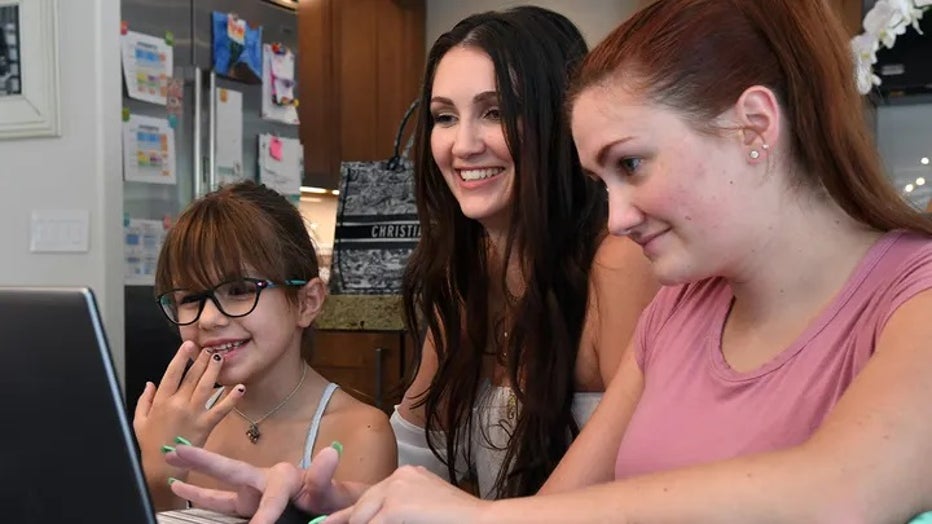 Gen Z is looking toward a side hustle to make extra money to combat the growing cost of living. (Ethan Miller/Getty Images /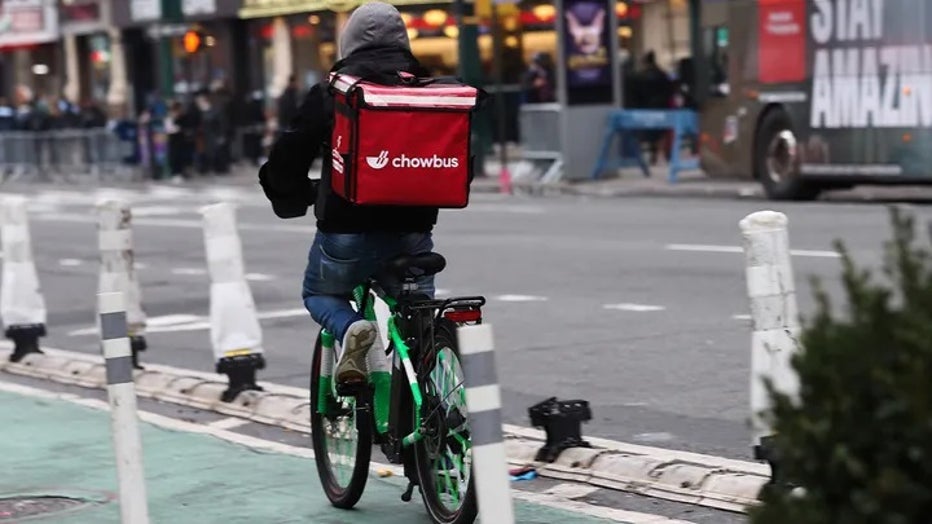 A food delivery guy with bicycle is seen at the Times Square in New York City, United States (Tayfun Coskun/Anadolu Agency via Getty Images)
According to the research, the "side-hustle" trend spans generations, with 36% of Millennials, 30% of Gen-Xers, and 21% of Boomers holding at least two jobs.
Deloitte's 2022 GenZ and Millennial survey found that a third of Gen Z respondents worry about the cost of living above all other concerns. Approximately 45% live paycheck-to-paycheck, and 26% of those participants doubt they will retire comfortably.
Side Hustle Nation, who surveyed 5,500 of their site's visitors, reported 80% of workers were hoping to supplement their income while the other 20% worked to eventually quit their full-time gig.
THE TOP SIDE HUSTLES OF 2023: HOW YOU CAN MAKE A SIX FIGURE INCOME WITH 'NO PROBLEM'
Data from the Bureau of Labor Statistics showed that the number of people working multiple full-time jobs has trended up in recent years, hitting an all-time high in August 2022.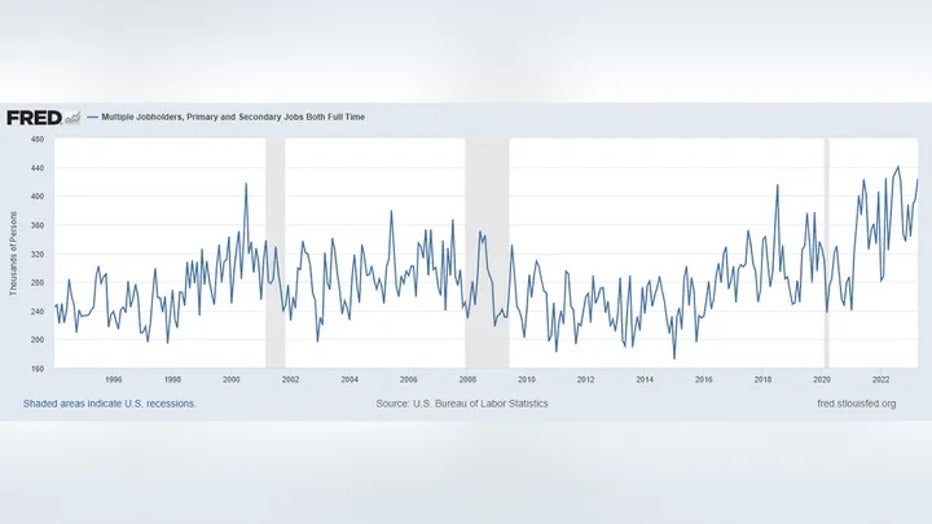 Data from the Bureau of Labor Statistics shows that the number of people working multiple full-time jobs has continued to trend upward, reaching an all-time in August 2022. (Bureau of Labor Statistics / Fox News)
Young people are looking at flexible, part-time jobs to beat present-day financial struggles as annual inflation remains at its highest in 40 years, according to the US Bureau of Labor Statistics. 
CLICK HERE TO GET THE FOX BUSINESS APP
The overall price for most things has risen exponentially in recent months, with costs up 5% year-over-year in March, according to the latest Consumer Price Index (CPI), a measure of inflation.
LINK: Get updates and more on this story at foxbusiness.com.