Danelo Cavalcante captured: Escaped killer subdued by K9 before being apprehended in 14-day search
EAST NANTMEAL, Pa - The frantic manhunt for an escaped killer that sent hundreds of law enforcement agents swarming through terrified communities has come to an end after the fugitive was taken into custody two weeks later.
Danelo Cavalcante, 34, escaped Chester County Prison on August 31 by scaling a prison wall, climbing through razor wire and jumping from the roof to freedom. His escape triggered a massive manhunt in lush terrain of Longwood Gardens that continued 20 miles north when police say he slipped through their original perimeter in a stolen van. 
Officials announced the search came to a "successful conclusion" during a press conference Wednesday, stating that Cavalcante was taken into custody around 8 a.m. after a 14-day manhunt forced school shutdowns, Longwood Gardens to close and an entire county to live life on the edge.
Law enforcement's final push began overnight when officers responded to a burglar alarm at home near Prizer Road, within the search perimeter. 
Cavalcante was still not located at that time, however, officials say the report led to a heat signal being tracked by aircraft and tactical teams around 1 a.m. Wednesday.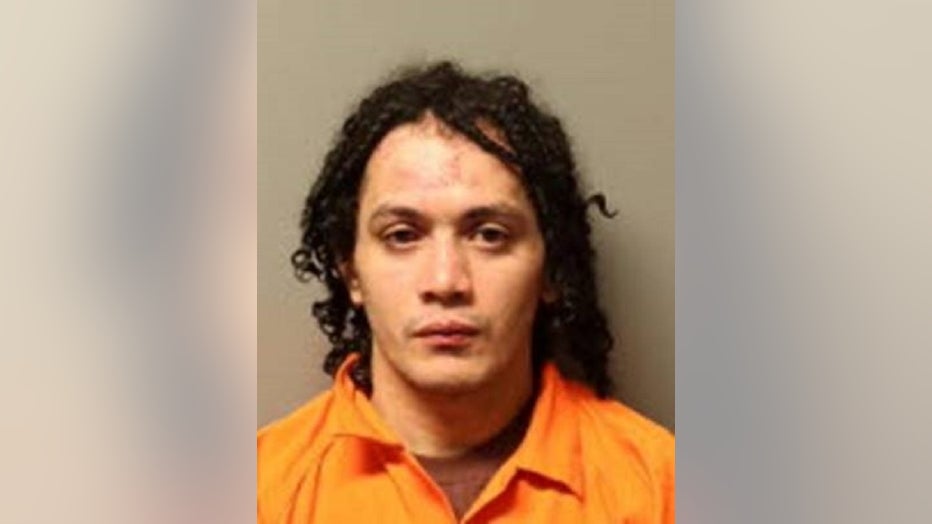 Teams were able to move in quietly several hours later, surrounding Cavalcante with the "element of surprise," Pennsylvania State Police Lt. Col. George Bivens said.
When the escaped killer tried to elude capture armed with a stolen rifle, he was subdued by a K9 search dog before being forcibly taken into custody, according to officials.
Cavalcante suffered a bite wound to the scalp, but officials say no shots were fired during the capture. No injuries were reported by any law enforcement or the public.
SkyFOX was live over the scene Wednesday as crowds of law enforcements took photos before strip searching handcuffed Cavalcante, and escorting him into an armored vehicle for transport.
U.S. Marshals posted this tweet, displaying photos of Cavalcante's capture up-close.
The captured killer remained in custody with the Pennsylvania State Police for questioning and medical evaluation before he was transferred to a state correctional facility Wednesday afternoon to serve his life sentence.
FOX 29's Steve Keeley reported through a source that Cavalcante eluded law enforcement agents by only moving at night, and surveyed police search perimeters to know when it was safe to escape. He hid underneath thick underbrush and search parties unsuspectingly came within 7 yards of him on three occasions, sources said.
Cavalcante told investigators that he noticed the heightened aerial search as the manhunt wore on, and planned to carjack a vehicle in the coming days, according to a source. He planned to use the stolen car to flee to either Mexico or Canada, sources said.
The attorney general's office said Cavalcante will be arraigned on a felony escape charge.
"Our nightmare is finally over, and the good guys won," said Chester County District Attorney Deb Ryan.
His capture comes days after a massive police presence swarmed the area of Fairview Road in East Nantmeal Township when a driver reported seeing Cavalcante crouched near a wood line. Later in the night, police say Cavalcante entered a garage and grabbed a .22 caliber rifle before encountering a homeowner who fired "several shots." 
Pennsylvania State Police also reported they recovered Cavalcante's prison-issued shoes and light-green colored hoodie that he was seen wearing on recent doorbell surveillance video. They believe Cavalcante swiped a pair of work boots from the porch of a local home.
Throughout the manhunt, residents within the search areas received reverse 911 calls from Pennsylvania State Police that advised residents to shelter-in-place and lock themselves indoors.
By nightfall Tuesday, authorities shifted their focus to an area of South Coventry Township where they established a new perimeter that encompasses areas within Routes 23 and 100, Fairview and Nantmeal Roads, and Iron Bridge and County Park Roads. They advised residents to lock buildings, properties and vehicles.
DANELO CAVALCANTE MANHUNT: 
Cavalcante was recently served a life sentence in the 2021 stabbing death of his girlfriend, whom he killed in front of her children. He was also wanted by authorities in Brazil for the shooting death of a man over a debt the victim owed him for repairing a vehicle.
The manhunt has rocked the sense of safety in otherwise quiet Pennsylvania communities. One resident told FOX 29 on Tuesday that they've endured sleepless nights listening to police scanners and local news coverage. 
"I want him caught," said a homeowner who did not wish to be identified. "We don't want any of our police force being injured, it's scary for everyone."