Milwaukee County deputy shot following traffic stop; suspect dead
MILWAUKEE - A Milwaukee County sheriff's deputy was shot and wounded after a traffic stop that led to a foot pursuit near 68th and Adler in Milwaukee early Wednesday, Jan. 26. The deputy was taken to the hospital for treatment of non-life-threatening injuries.  
According to the Milwaukee County Sheriff's Office, around 2:00 a.m. a deputy conducted a traffic stop near 68th and Adler for a registration violation. While on scene, that deputy requested assistance. 
As additional deputies arrived, the driver and passenger of the stopped vehicle fled the scene on foot. The driver was taken into custody near the on-ramp of I-94 near 68th Street after a brief foot pursuit. Deputies and West Allis police searched for the passenger.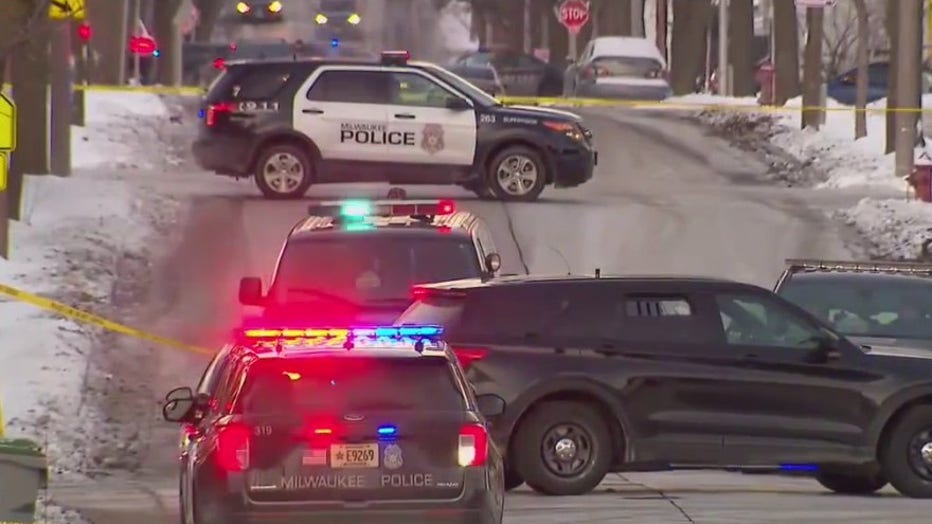 Shortly after 3 a.m., officials said a male climbed out of a garbage bin near 64th and Adler. A perimeter was established. As the male was approached by another deputy, he produced a firearm and fired at the deputy, striking him several times in both arms and his torso. The deputy was taken to a hospital.
"At this time, his injuries do not appear to be life-threatening," said Sheriff Earnell Lucas. "We should all be grateful and thankful for that officer."
Sheriff's deputies and officers from multiple surrounding agencies began searching for the shooter. A shelter in place alert was issued.
SIGN UP TODAY: Get daily headlines, breaking news emails from FOX6 News
While searching the area, sheriff's deputies and officers encountered a male crouching behind a vehicle near 60th and Main and verbally engaged him.  At that time, officials heard a single gunshot and found the male lying on the ground from a self-inflicted gunshot wound.  
Preliminary investigation suggests that this person was responsible for shooting the deputy sheriff.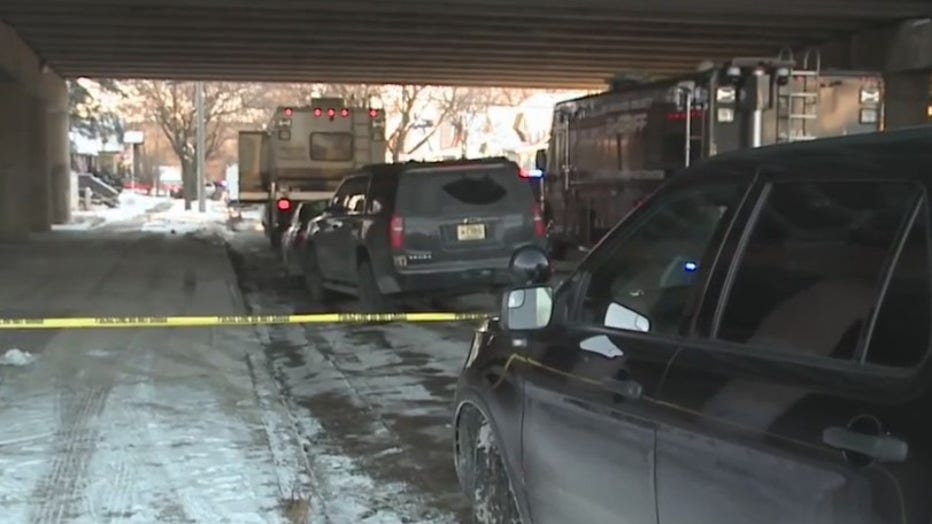 Police did arrest a second person at the scene where this unfolded. They are working to determine if this individual is connected to the case. 
FREE DOWNLOAD: Get breaking news alerts in the FOX6 News app for iOS or Android
Statement from Sheriff Lucas
"This morning, a courageous deputy sheriff placed himself in harm's way, sacrificing his own safety to protect our community. The people of Milwaukee County should be very proud of this devoted public servant. The prayers and healing thoughts of all members of the Milwaukee County Sheriff's Office are with our injured comrade and his family as they navigate this challenging time. We wish our deputy a full recovery and extend our strongest support to him."
"I extend my appreciation to the residents and business owners who cooperated with this morning's shelter-in-place order and helped ensure public safety during the investigation."
The Milwaukee Police Department was requested to conduct the investigation into the matter. Anyone with information regarding this investigation is asked to contact the Milwaukee Police Department at 414-935-7360 or Crime Stoppers at 414-224-TIPS.
Milwaukee Public Schools announced both Burbank and MacDowell Montessori Schools would transition to virtual learning Wednesday due to the ongoing investigation with law enforcement in the area.
Public Safety Alerts
Milwaukee County Office of Emergency Management Director Cassandra Libal issued the following statement on those Emergency Text Alerts sent out early Wednesday in response to the shooting of the deputy:
"The Office of Emergency Management's priority in situations where public safety is at risk to get pertinent information out quickly to the people who are primarily affected and immediately at risk.
'"The technology currently in use does not allow us to geographically target messages to specific neighborhoods throughout the county. This is a FEMA regulated program and we are working with them and our software vendor to address the issue.
"Given the incident occurred in the early morning, just hours before school children and other residents would be starting their morning commutes, the Office of Emergency Management sent the message to the entire County out of an abundance of caution.
"We do not intend to send alerts outside the County, but there is potential for alerts to be sent to cell phones just outside of the county, however that is contingent on the cellular provider and location of cell towers and is not a decision made by the Office of Emergency Management. The Office of Emergency Management sends the message to cell towers which then send the messages to phones in the area.
"This morning's incident was a tragic circumstance in which an officer was injured, and another person lost their life. The Office of Emergency Management has worked diligently today to keep the public safe and inform residents on what was an on-going situation throughout the morning."
Reaction
Acting Milwaukee Mayor Cavalier Johnson
"My thoughts are with the Milwaukee County sheriff's deputy who was shot this morning.  His courageous actions early this morning deserve our deepest gratitude. I wish him a speedy and full recovery.
"I also offer my appreciation to other members of law enforcement. They are working to make our community safer, often under difficult and dangerous conditions.
"The Milwaukee Police Department immediately joined the response to the shooting, cooperating with the Sheriff's Department. Going forward, Milwaukee Police will be leading the investigation into the incident.
"I encourage anyone with relevant information to reach out to investigators." 
Milwaukee Alderman Michael Murphy
"I want to extend my gratitude to the Sheriff's Department, Milwaukee Police Department, and West Allis Police Department for their swift and collaborative response to this incident, and I wish the deputy who was injured in the line of duty a full and speedy recovery.
"Deputies later encountered a person who they considered suspicious near S. 60th and W. Main, and after issuing commands to the individual, they heard a single shot. Upon approaching the man they noticed he sustained a self-inflicted gunshot wound and had died.
"I know this incident was truly worrisome for many neighbors who reside in the area, particularly in the early morning hours when individuals are preparing for work or to send their kids off to school. It truly was a case where the location of the traffic stop dictated where the incident would likely unfold (a normally quiet and peaceful neighborhood).
"As additional details become available, I will be sure to keep residents up to date as we work to keep our community as safe as possible.
"Again I want to extend my thanks to the deputies and officers who rushed to the area to protect us and to apprehend the suspects, and we thank God the deputy's injuries are not life threatening."
Milwaukee County Executive David Crowley 
"This morning, like so many other residents, I woke up and was shocked to receive the awful news that a Milwaukee County Sheriff Officer was shot multiple times in the line of duty while conducting a traffic stop. My family and I have been praying to hear good news about the officer's condition and we are pleased to know that the injuries do not appear life threatening. We wish this deputy a full and fast recovery. I am grateful for our Milwaukee County Sheriff Officers who put their lives in harm's way to help keep our community safe.
"I share the frustration that I hear from residents concerning the reckless, violent, and unnecessary incidents taking place in our neighborhoods all too often. We are seeing how the pandemic, economic pressures, family needs, and other stressors are taking their toll on all of us.  It is a difficult and sobering time for our community right now.
"Milwaukee County is committed to meeting the needs of our residents. Our vision is to achieve racial equity and improve public health across the county, but we also know that healthy neighborhoods are safe neighborhoods. We create safe and healthy blocks by recognizing the humanity in each and every one of our neighbors and working to ensure their needs are met. 
"We take the health and safety of all of our residents seriously. We've worked hard to move services upstream and meet people where they are to make sure their needs are fulfilled. We are committed to our task of achieving racial and equity and becoming the healthiest county in Wisconsin, but we cannot do this alone, or it will fail, and our region will never realize its true potential. 
"Over the coming days and weeks, I will be working with leadership at Milwaukee County to determine what further steps we can take to keep our residents healthy and keep our streets safe.
"We need all hands-on-deck for this effort. That means everyone – neighborhood organizations, elected officials, corporate leaders, neighborhood block captains and other changemakers – coming together to improve our County block by block, neighborhood by neighborhood. I ask all of our community leaders to heed this call and join in the work to improve life for our residents."