Haunting last words shouted to Baton Rouge teen after he went overboard and vanished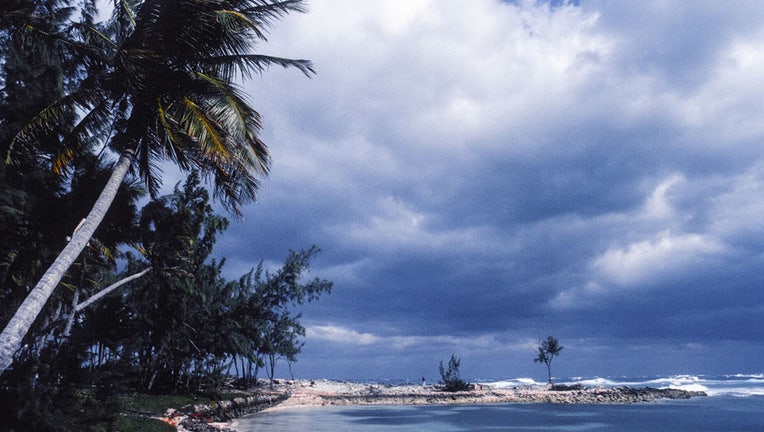 article
In a viral video that possibly shows the last moments of Cameron Robbins' life, someone is heard yelling, "bye, bye," as the Louisiana high school graduate disappears into the water and the video cuts off.
Robbins, 18, was on Blackbeard's Revenge sunset cruise in the Bahamas with several hundred students after graduating from Baton Rouge's University Laboratory School (U-High) on May 21.
On May 24, he reportedly jumped overboard into "shark-infested" waters near the uninhabited Athol Island, northeast of Nassau, and a video of Robbins in the water has been seen over 10 million times. 
As the profanity-laced video ends, Robbins swims away from a life preserver, and someone yells, "Oh my f---ing god! Oh, shut the f--- up. Oh, bye, bye."
BATON ROUGE TEEN STILL MISSING AT SEA AMID SPECULATION ABOUT 'SHARK-INFESTED' WATERS
Panic seems to seize other onlookers, as their rapid screams to grab the buoy become louder and more high-pitched. 
Online speculation that Robbins encountered a shark took over social media afterward, and many believe a shark bit him the moment someone says on the video, "Oh, bye, bye."  
LOUISIANA HIGH SCHOOL GRAD STILL LOST AT SEA AFTER COAST GUARD CALLS OFF SEARCH
The video has gone through nearly every type of edit — from slowing down the speed to changing the lighting and exposure settings — to "prove" a shark grabbed Robbins, but the cellphone footage is too dark and chaotic to definitively show what happened. 
Brian Trascher, spokesperson for the United Cajun Navy, told Fox News Digital it is consulting with professors at the Louisiana State University Department of Oceanography and Coastal Sciences for expertise.
His family hasn't said anything other than releasing a statement: "The Bahamas government has called off the rescue for Cameron, and we are returning to Baton Rouge.
MADISON BROOKS DEATH: LSU STUDENTS HAILED AS GOOD SAMARITANS AFTER ALLEGED BATON ROUGE RAPE
"We want to thank the Bahamas government, the U.S. Coast Guard, the United Cajun Navy and Congressman Garret Graves for everything they have done for us. In this time of grief, we thank our family, friends and well wishers for granting us the privacy we need to properly remember our son and mourn his loss."
The community came together during the search for a vigil on May 25, and a memorial is planned for Sunday. 
Robbins was a standout baseball player in Baton Rouge. The last images he posted were from his graduation day with his family and friends. 
"Cameron is a kid who is truly loved by his teammates, teachers and fellow classmates," U-High baseball coach Justin Morgan said in a statement. "He is a fierce competitor on the baseball field. He is a hard worker both on and off of the playing field. 
LSU DEATH: MADISON BROOKS' LAST TEXT TO MOM, WHO 'KNEW SOMETHING TERRIBLE HAPPENED'
"Our school community is struggling right now. … Our thoughts and prayers have been and will remain with the Robbins family during this difficult time."
His mom "is an indescribably amazing teacher and her kindness and devotion has helped countless children throughout her career," according to a GoFundMe created for the Robbins family. 
Kevin George, the director of Lab School, told local news outlet WBRZ that Robbins is a "special kid."
He's "been here throughout his entire educational career. He's an athlete, great kid, great smile, great head of hair. Just one of the kids you're so proud of when they cross the stage," George said. 
A memorial service for Robbins will be held Sunday at Broadmoor United Methodist Church in Baton Rouge.
Visitation will be from 2 p.m. to 4 p.m. The service will begin at 4 p.m.
In lieu of services, a donation in Robbins' name may be made to Christian Homes & Family Services in Abilene, Texas.