Hurricane Ian briefly attained Category 5 intensity off Florida's Gulf Coast, NHC says
Hurricane Ian, whose name was recently retired by the World Meteorological Organization, briefly attained Category 5 intensity over the southeastern Gulf of Mexico off the coast of Southwest Florida, according to a National Hurricane Center post-storm analysis released Monday.
After analyzing data from Air Force Reserve Unit and NOAA reconnaissance aircraft, the NHC found Ian's peak intensity reached 160 mph on Sept. 28 at 8 a.m. EDT. A Category 5 hurricane has sustained winds of at least 157 mph.
Ian made landfall on the barrier island of Cayo Costa, Florida, about seven hours later, but not before weakening slightly to a Category 4 hurricane with winds of 150 mph.
In the U.S., Hurricane Ian was blamed for at least 156 fatalities, 66 of which were considered deaths directly caused by the storm, the NHC said. All of those direct deaths occurred in Florida. Storm surge was the deadliest impact, claiming 41 lives, with 36 of the 41 surge fatalities occurring in Lee County, Florida, where Ian made landfall.
MOST OF HURRICANE IAN'S VICTIMS IN FLORIDA DIED BY DROWNING, DATA SHOWS
According to NOAA's National Centers for Environmental Information, Ian was responsible for $112.9 billion in damage, making it the costliest hurricane in Florida's history and the third-costliest in U.S. history, behind only Katrina ($190 billion) and Harvey ($151.3 billion).
Hurricane Ian history: Sept. 23-30, 2022
FOX Weather's Mitti Hicks recounts the unfolding of Hurricane Ian six months after the storm ripped through Southwest Florida. 
Hurricane Ian will be remembered as the costliest weather disaster in all of 2022 and as the deadliest storm to strike Florida in more than 80 years.
The storm began as a tropical disturbance off Africa but struggled to get its act together until reaching the central Caribbean Sea, where it became a tropical storm on Sept. 24.
Ian rapidly strengthened into a Category 3 hurricane before striking Cuba, knocking out power to millions and causing five deaths.
RELATED: WMO: Fiona, Ian join list of retired hurricane names
The hurricane exited the island nation into the Gulf of Mexico and rapidly strengthened as it approached Florida's Gulf Coast.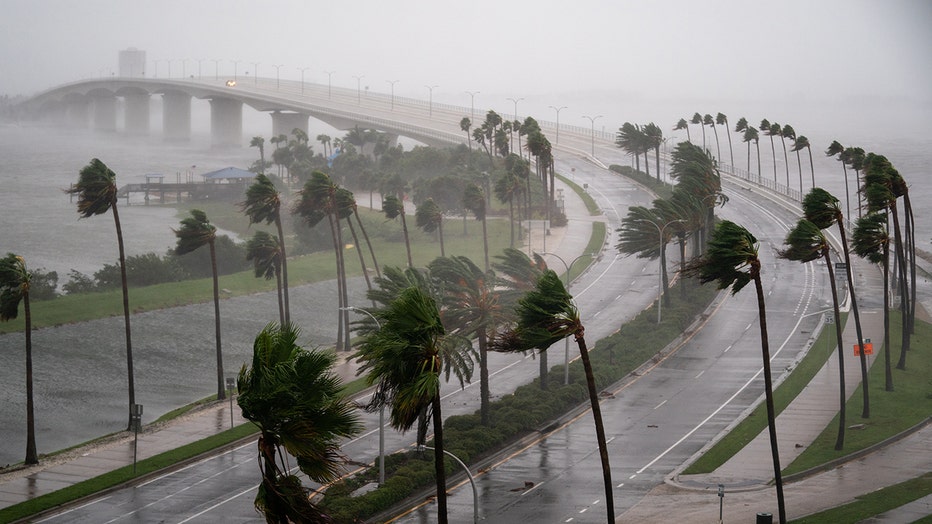 Wind gusts blow across Sarasota Bay as Hurricane Ian churns to the south on September 28, 2022 in Sarasota, Florida. The storm made a U.S. landfall at Cayo Costa, Florida this afternoon as a Category 4 hurricane with wind speeds over 140 miles per ho
Hurricane Ian's first U.S. landfall occurred at Cayo Costa, Florida, very near where Hurricane Charley made landfall almost 20 years earlier.
HURRICANE IAN BY THE NUMBERS: THE SCOPE OF THE CATASTROPHIC DAMAGE
Ian produced a devastating storm surge for communities in the Fort Myers area, and impacts from wind, rain and tornadoes were reported in a large portion of the Florida Peninsula.
After impacting the Sunshine State, Ian continued north and eastward, bringing damaging wind gusts to the Carolinas, mid-Atlantic and Northeast.